Trump Picks Outspoken Army 'Rebel' as National Security Adviser
By and
Army General McMaster is known for speaking truth to power

McMaster won't be a 'yes man,' one prominent critic says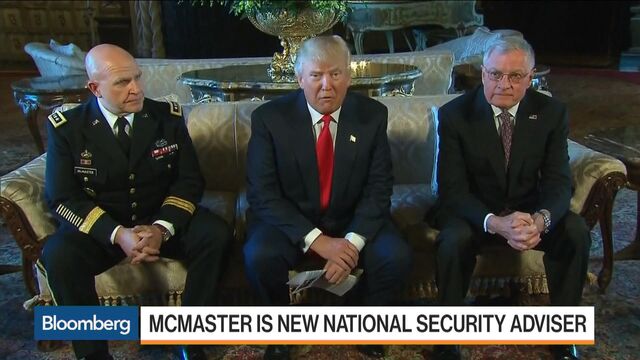 Donald Trump's pick of H.R. McMaster for national security adviser puts a key job in the hands of a decorated officer with a record for speaking his mind, reassuring administration critics who've been increasingly vocal about their differences with the U.S. president.
Trump on Monday selected the Army lieutenant general to replace Michael Flynn, who resigned last week following revelations he misled the vice president about contacts with a Russian envoy. Keith Kellogg, who stepped in as acting national security adviser and was considered for the post, will remain as chief of staff for the national and homeland security councils.

While Trump has tapped a number of military officers for key administration posts, the new national security adviser has a reputation for speaking truth to authority, a trait that hasn't always been welcome in a White House where loyalty to the president is prized most of all. Scores of Republican foreign policy officials have been passed over for top jobs after signing letters or speaking out against Trump during the campaign.
Trump's decision prompted Senator John McCain of Arizona, who heads the Armed Services Committee and has been perhaps the president's loudest Republican detractor on Capitol Hill, to call the 54-year-old McMaster "an outstanding choice," adding that he gives "President Trump great credit for this decision."
Some Democrats also praised the pick.
"Every time they add a grownup into that equation, we should all be happy," Senator Sheldon Whitehouse, a Rhode Island Democrat, said Tuesday on MSNBC's "Morning Joe" program. "And I think McMaster is a certified, card-carrying grownup and very, very respected military officer by his peers."
Military 'Rebel'
McMaster "is a bit of a rebel in the military," according to Bill Kristol, founder and editor at large of the conservative Weekly Standard, who has been a persistent detractor of Trump. "It's an important pick because it means he's not going to have a national security adviser who is a yes man."
As national security adviser, McMaster will have "full authority" to structure the National Security Council in order to best serve the White House, Trump spokesman Sean Spicer told reporters Tuesday.
Power Center
McMaster will be overseeing an office that has gradually absorbed more of the decision-making power on foreign affairs from Cabinet-level departments such as the State Department and Pentagon. Like Flynn, McMaster may also find himself conducting or at least sitting in on the daily presidential intelligence briefing, reviewing threats on everything from Islamic State terrorists to North Korean missile launches.
McMaster's appointment comes after weeks of turmoil at the White House over Flynn's calls to the Russian ambassador in Washington and revelations that there are multiple investigations underway by the FBI and intelligence community into alleged communication between Russian agents and officials associated with Trump's campaign.
Sanctions Outlook
There has also been confusion over the U.S. approach toward Russia, with Trump repeatedly saying he'll seek better ties while key aides, including Defense Secretary James Mattis and UN envoy Nikki Haley, say Washington remains committed to sanctions against Moscow over its actions in Ukraine.
That confusion remained following a series of meetings in Europe over the past week, where U.S. officials including Vice President Mike Pence and Secretary of State Rex Tillerson, backed the sanctions regime but declined to respond to questions which could have helped clarify the new administration's foreign policy goals.
In a May 2016 speech to the Center for Strategic and International Studies, McMaster talked about the perceived threat from Moscow.
"What might have punctuated the end of the post-Cold War period is Russia's invasion of Ukraine and annexation of Crimea," McMaster said. "We've awakened to obviously this threat from Russia. What is required is forward deterrence."
McMaster may have found common ground with Trump over their shared belief that the U.S. military is too small. Trump has called for bolstering the size of the Army and buying more ships for the Navy. In testimony on Capitol Hill last year, McMaster argued that the Army needs to be modernized and is in danger of becoming too small to secure the nation. In a 2013 essay for the New York Times on "the pipe dream of easy war," he said the wars in Afghanistan and Iraq were complicated by wishful thinking that "lightning victories" could be achieved.
'Dereliction of Duty'
In McMaster's 1997 book "Dereliction of Duty," he criticized military officers for failing to challenge former President Lyndon B. Johnson and then-Secretary of Defense Robert McNamara over their handling of the Vietnam War. He wrote that the U.S. lost that war in the political corridors of Washington, not the battlefield.
"He stands up for what he believes," Michael Hayden, a former director of the National Security Agency and Central Intelligence Agency who frequently criticized Trump before his inauguration, said by e-mail. "What a perfect choice for this administration."
McMaster, who flew to Washington Monday with the president from Florida on Air Force One, intends to remain on active duty while he serves as national security adviser. Unlike cabinet posts, the national security adviser position doesn't require Senate confirmation.
McMaster has been directing the Army Capabilities Integration Center, which is designed to implement warfighting capabilities among the military services and, as he described, "aggressively transform" Army operations. He is also the deputy commanding general for futures of the U.S. Army Training and Doctrine Command at Fort Eustis, Virginia. He is a veteran of the 1991 Persian Gulf War and the wars in Iraq and Afghanistan.
Other Candidates
Two other candidates for the position included Robert Caslen, the superintendent of the U.S. Military Academy at West Point, and John Bolton, the United Nations ambassador under President George W. Bush who has advocated regime change in Iran. Trump said he sees another role for Bolton in his administration.
Trump's initial choice to replace Flynn, retired Vice Admiral Robert Harward, an executive at Lockheed Martin Corp., told the president last week that he wouldn't take the job, according to two administration officials who requested anonymity because the offer wasn't made public.
Asked if Pence, who allegedly received misleading information from Flynn about the Russia calls, played a role in McMaster's selection, Trump said he did.
— With assistance by Toluse Olorunnipa, and Shannon Pettypiece
Before it's here, it's on the Bloomberg Terminal.
LEARN MORE