markets
Tata's New Chairman's To-Do List: Growth and Growth
By
Chandrasekaran on Tuesday took over as chairman of Tata Sons

India's top conglomerate seeks break from boardroom turmoil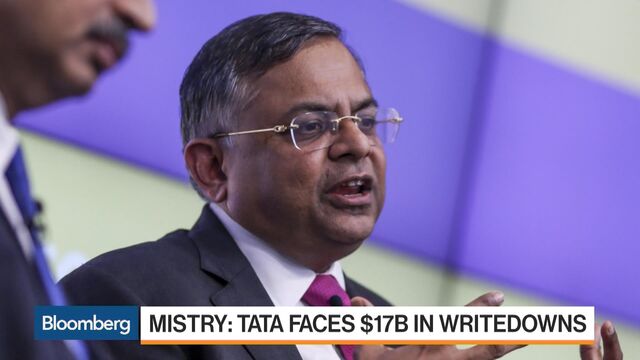 Natarajan Chandrasekaran took over as chairman of Tata Sons Ltd., the holding company of Tata Group, pledging to improve capital allocation and boost returns from the $100 billion salt-to-software Indian conglomerate.
The challenge for Chandrasekaran, or Chandra as he's known, will be to rekindle growth and revive Tata's weaker units after almost four months of boardroom turmoil that followed the ouster of his predecessor Cyrus Mistry.
"I will focus on three strategic priorities," Chandra said in a statement on Tuesday. Leverage the group's strength, improve operating performance in companies,"bring greater rigor to our capital allocation policies and deliver superior returns to our shareholders."
Tata, founded in 1868, named Chandra to take the helm after a feud between scion Ratan Tata and Mistry over the latter's strategy of paring back the empire Ratan Tata had built through more than a decade of acquisitions before handing the reins to Mistry. While Mistry looked for ways to pare the conglomerate's debt-laden sprawl, Chandra helped turn software maker Tata Consultancy Services Ltd. into a growth machine, boosting the company's market value more than 10 times since 2009.
"The Tata group has made some very ambitious acquisitions," Mahendra Patil, managing partner at consultancy firm XMPUS Financial Services LLP, said in an interview. "Besides returns, even the acquisition price raises questions over the group's strategy to allocate capital in an efficient way."
Tata Sons announced last month the appointment of Chandra, 53, who joined the Tata group in 1987 after obtaining a masters degree in computer applications from the Regional Engineering College in his home state of Tamil Nadu.
Bombay House
As Chandra started his day in Bombay House, Tata Group's head office -- where stray dogs lounge in the lobby of the restored heritage building in Mumbai's original business district -- investors will be looking to the man who transformed Tata Consultancy Services into the nation's most valuable company.
That performance may be critical for Tata.
"Going by Chandra's track record at TCS, I think his biggest focus will be to grow the group," said Juergen Maier, a Vienna-based fund manager at Raiffeisen Capital Management, who oversees about $1 billion in assets including Tata Motors and Tata Consultancy shares. "For companies like Indian Hotels and Tata Steel, Tata will have to rework their strategy as their overseas acquisitions were the problem areas, while the local businesses did well. Tata still has huge opportunities to grow in the coming years."
Amid a boardroom battle that spilled into public over the past four months, Mistry said the group faces about 1.18 trillion rupees ($17 billion) in writedowns in coming years from five unprofitable units.
In an e-mail to directors of the company days after his ouster, the chairman cited Indian Hotels Co., Tata Motors Ltd.'s passenger-vehicle operations including Jaguar Land Rover, Tata Steel Ltd.'s European business, and the group's power and telecommunications units as "legacy hotspots."
"Nobody will deny that there were some problem companies," Tata Sons said in a statement on Nov. 10, responding to Mistry. TCS and Jaguar Land Rover "probably account for around 50 percent of the total turnover and probably over 90 percent of the total profits of the whole group and have been performing successfully continuously over the past many years," according to the statement.
Here's a look at some of the key challenges facing Tata Group units.
Indian Hotels:
Indian Hotels, operator of the Pierre hotel in New York, has been paring debt by selling assets including a property in Boston and its stake of almost 6 percent in Belmond Ltd., owner of the 21 Club restaurant in New York and Hotel Cipriani in Venice. Under Ratan Tata, it had tried to buy control of the company, formerly called Orient-Express Hotels Ltd., in 2012. It gave up the chase in 2013 under Mistry.
This year, Indian Hotels is expected to report an annual profit after losing money in the previous four financial years. The sale of the Boston property led to a one-time loss of 1.03 billion rupees, the company said in a Feb. 3 filing.

Tata Motors:
In 2008, Tata Motors Ltd. bought the Jaguar and Land Rover luxury brands from Ford Motor Co. for $2.4 billion. Tata turned around the brands, helping boost revenue more than seven-fold between 2008 and 2015.
In the quarter ended December, Tata Motors's profit plunged 97 percent after margins at its luxury Jaguar Land Rover unit narrowed and costs surged. The company is also contending with potential fallout from a proposed U.S. border tax on imported cars and Britain's withdrawal from the European Union.

The Jaguar Land Rover unit is vulnerable because it doesn't have factories in the U.S. and sells much of its U.K. output abroad. The domestic business in India continues to struggle amid competition from Maruti Suzuki India Ltd. and Hyundai Motor Co.
Tata Teleservices:
Japan's NTT Docomo Inc. has sought compensation for its stake in Tata Teleservices Ltd. as it tries to exit one of its worst overseas investments. In June, the London Court of International Arbitration ordered Tata Sons to pay $1.17 billion to NTT Docomo for breaching an agreement over the wireless venture.

The mobile phone business has been losing customers amid a price war that's prompting India's 11 carriers to consolidate. Reliance Jio Infocomm Ltd., controlled by India's richest man, turned up the heat in September by introducing free calling and data services. Tata Teleservices has about 300 billion rupees of debt, according to a company filing.
Tata Steel:
In 2007, Tata Steel made one of India's most expensive overseas acquisitions, buying Corus Group Plc. for $12 billion. Its fortunes soon went south, as Europe fell into a demand slump after the 2008 economic crisis and China flooded the market with additional output.
This month, Tata Steel announced that it had agreed to sell its U.K. specialty steels business to Liberty House Group for 100 million pounds ($124 million), as part of efforts to pare debt. The company has been seeking to sell or turn around its U.K. business after years of losses, and is in talks with Thyssenkrupp AG and other companies for a joint venture.

The group's previous strategy of consolidation meant it missed some opportunities to expand, said Ajay Srivastava, New Delhi-based managing director at Dimensions Consulting.
"They've missed out on the three big areas -- financial services, telecom and defense -- that have been growing in India."
Tata is left with the challenge of finding ways to grow at the same time as exploring ways to exit underperforming businesses, said Srivastava. "Chandra will have to deal with the 'ailing children' -- Tata Steel Europe, Tata Motors and Indian Hotels -- even as he identifies new growth projects and the resources to grow them." 
— With assistance by P R Sanjai
(
Updates with analyst comment in fifth paragraph.
)
Before it's here, it's on the Bloomberg Terminal.
LEARN MORE