Malaysia Says 4 N. Korean Suspects in Kim Death Fled Country
By
Half-brother of North Korean leader poisoned at airport

Police have detained four other suspects to help with probe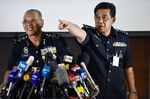 Malaysia is seeking four North Korean suspects who fled the Southeast Asian nation on the day the half-brother of dictator Kim Jong Un was murdered.
The cause of death for Kim Jong Nam is still unknown and investigators are awaiting toxicology and pathology test results, Malaysia's Deputy Inspector General of Police Noor Rashid Ibrahim told reporters in Kuala Lumpur on Sunday. Kim had complained of dizziness after two unidentified women wiped liquid on his face, Noor Rashid said.
Kim Jong Nam, the eldest son of former dictator Kim Jong Il, was murdered on Feb. 13 by two women inside an airport in Malaysia. He had fallen out of favor with his father after he was caught trying to enter Japan using a fake Dominican Republic passport in 2001, according to Japanese reporter Yoji Gomi, who wrote a book about him. Kim Jong Nam had been critical of Kim Jong Un, reportedly saying in 2012 that he "won't last long" because of his youth and inexperience. The two brothers had different mothers.
Noor Rashid said Malaysia is following legal procedures and requirements despite allegations by North Korea, which reportedly declined to accept the initial results of the autopsy because it was performed without the attendance of Pyongyang officials.
Malaysia's foreign affairs ministry on Monday summoned North Korean Ambassador Kang Chol to seek an explanation on the accusations he made against the government in his press conference on Friday. Kang insinuated that Malaysia had "something to conceal" and was "colluding and playing into the gallery of external forces," the ministry said in a statement.
"As the death occurred in Malaysian soil under mysterious circumstances, it is the responsibility of the Malaysian government to conduct an investigation to identify the cause of death," the ministry said. "This investigation has been conducted in the manner prescribed by Malaysian law" and the government has been transparent, it said.
Malaysia also said it recalled its ambassador to Pyongyang for consultations.
Police have yet to meet the next-of-kin and are trying very hard to get them to come and assist in investigations, Noor Rashid said on Sunday. They will verify the deceased's identity through DNA tests, he said.
South Korea is "certain" the man who was killed at Malaysia's airport is Kim Jong Nam, after taking various factors into account, the country's Unification Ministry spokesman, Jung Joon-hee, said in a briefing on Sunday. "North Korea is likely behind the death of Kim," said Jung, citing the fact that some of the suspects are North Korean nationals.
The four suspects who fled were identified as Ri Ji Hyon, 33, Hong Song Hac, 34, O Jong Gil, 55 and Ri Jae Nam, 57. They held normal passports and not diplomatic ones, the police said.
Police have detained four other suspects and are holding them for seven days.
Before it's here, it's on the Bloomberg Terminal.
LEARN MORE