China Message to Trump With North Korea Coal Ban: Let's Deal
Hooyeon Kim and Ting Shi
Beijing's move effectively cuts neighbor's exports in half

China wants to restart talks on North Korea's nuclear program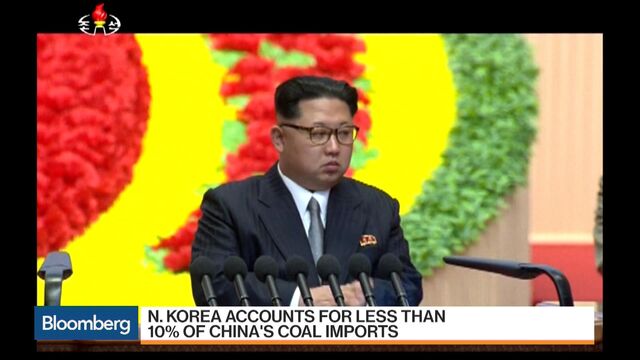 China's move to ban coal imports from North Korea, effectively slicing the country's exports by about half, came with a message for the U.S. and its allies: It's time to do a deal.
Authorities in Beijing announced on Saturday that China would halt all shipments from Kim Jong Un's regime until the end of the year, in compliance with United Nations Security Council resolutions over North Korea's nuclear program.
At the same time, Chinese officials said that pushing North Korea into a corner won't work as Kim's regime will keep developing its nuclear capability until it feels safe. Instead, it's time to restart talks and "break the negative cycle on the nuclear issue," Chinese Foreign Minister Wang Yi said in a statement on Sunday after meeting South Korean counterpart Yun Byung-se at a security meeting in Munich.
"The Chinese are getting more frustrated with North Korea," Eurasia Group President Ian Bremmer said in an interview at the same conference. "They clearly don't feel that they have a lot of influence and they're worried that the U.S. under Trump is going to blame China as opposed to continuing a multilateral process."
Trump Factor
China's call for a new initiative contrasts with a more hawkish tone out of Washington. President Donald Trump, who during his campaign said he could negotiate with Kim over a hamburger, this month promised to deal with North Korea "very strongly" after its latest missile test. He also called on China to get tougher. The U.S. is putting a defense system called Thaad in South Korea -- a move that also potentially threatens Beijing's military capabilities.
China may soon have company in making the shift. South Korea's President Park Geun-hye was impeached in December and the leading candidates to replace her all take a softer line on North Korea, with front-runner Moon Jae-in saying that the next administration should review the decision to deploy Thaad. Acting President Hwang Kyo-ahn on Monday urged the country to prepare for a fresh provocation from North Korea.
The assassination of Kim's estranged half-brother, who was protected by Chinese authorities, added to calls in Beijing's foreign policy establishment to take stronger action, according to Shi Yongming, an associate research fellow at the Foreign Ministry-run China Institute of International Studies.
To read about the significance of Kim Jong Nam's murder, click here.
"The case fully exposed the desperate irrationality of the Kim regime," Shi said. "Beijing still wants to bring him to a negotiation table -- and that's where the U.S. role lies -- because the collapse of the regime is right now outside China's realistic capacity to handle."
China has backed the Kim dynasty since it took charge after the Korean War, in part to prevent having a U.S. ally on its border. With the international community enforcing sanctions on North Korea after a series of nuclear tests, China now accounts for more than 90 percent of its total trade.
Coal sales accounted for more than 50 percent of North Korea's exports to China last year, and about a fifth of its total trade, according to Yang Moo-jin, a professor at the University of North Korean Studies in Seoul. China had previously bought coal under exemptions that allowed trade for "livelihood" purposes. China's Ministry of Commerce didn't respond to faxed questions outside office hours.
"Of course they may have methods to replace the damage, but just by looking at the size of the loss, that's a pretty big blow," Yang said.
'Wrong Direction'
For China, the move may have little impact: The country is the world's biggest producer and consumer of coal, and North Korea accounts for less than 10 percent of its imports of the fuel. The restrictions also come as China's peak winter demand season begins winding down and regulators weigh reinstating domestic mining output limits to avoid the reemergence of a supply glut.
Whether it will bring Kim's regime to the negotiating table is unclear. North Korea has accelerated its development of nuclear bombs and ballistic missiles since 2009, when it walked away from six-party talks involving the U.S., South Korea, China, Russia and Japan.
Fu Ying, who chairs the Foreign Affairs Committee of China's legislature and was a vice foreign minister until 2013, said on Saturday that U.S. policy is only making things worse.
"You have to realize -- without talking with them, you will only drive them in the wrong direction," she said at a security forum in Germany while on stage with South Korea's Yun and U.S. Senator Dan Sullivan, an Alaska Republican.
Sullivan said the Obama administration's policy of "strategic patience" hadn't borne fruit. "Most people are viewing that now as a failed policy," he said, calling on China to use its leverage over North Korea "in a more constructive way."
Trump Has Four Main Options for Stopping North Korean Missiles
In Yun's talks with his Chinese counterpart, Wang urged South Korea to resume negotiations and reiterated China's opposition to the deployment of Thaad.
Trump's administration has said it will deploy the missile defense system this year in South Korea and back Japan "100 percent" in moves to deter North Korea. It has also signaled a willingness to work with China after sharp criticism on the campaign trail, and Trump has told President Xi Jinping that the U.S. will respect the One-China policy.
While China has previously resisted calls by the U.S. to apply greater pressure on Kim's regime, North Korea is increasingly becoming a strategic liability, according to Zhou Qi, director of the National Strategy Institute at Tsinghua University in Beijing.
"What we're seeing now is Beijing is showing a new willingness to bring the North to near the breaking point," she said. "There is still some room to squeeze the regime. But of course, it's a risky card to play."