Pence Offers Europe Reassurances as Merkel Underlines Divide
By , , and
Vice President soothes fears on Russia and trans-Atlantic bond

German chancellor pushes back against trade-surplus criticism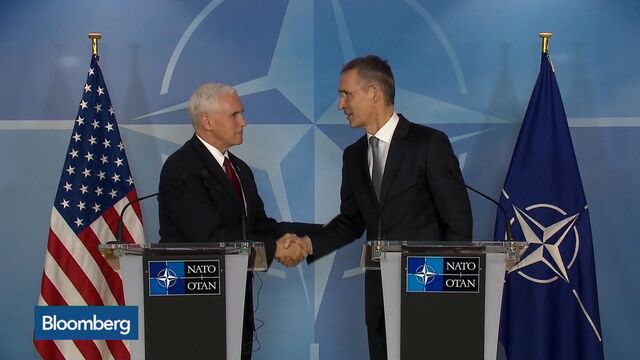 U.S. Vice President Mike Pence offered reassurances to Europe on the new administration's commitment to its trans-Atlantic allies but his first speech on the world stage failed to hide glaring policy divisions that remain.
An audience at the Munich Security Conference on Saturday that included German Chancellor Angela Merkel heard Pence underscore President Donald Trump's "unwavering" commitment to Europe and NATO while pledging to "hold Russia accountable." His message on raising defense spending was less well received, with Merkel saying the solution wasn't as straightforward as pumping money into military equipment.

The chancellor, who spoke immediately before Pence, also delivered a rebuttal of recent U.S. accusations that Germany benefits from an unfair trade advantage and made the case for multilateral institutions, in a warning against pursuing protectionism.
"No nation can resolve the world's problems alone," she said.
The twin speeches followed by a meeting between Pence and Merkel marked the highest level contact to date between the Trump administration and the leader of Europe's biggest economy. It came amid widespread anxiety among U.S. allies over Trump's "America First" stance that threatens to upend decades of U.S. foreign policy and trans-Atlantic cooperation.
Defense Spending
"Today, on behalf of President Trump, I bring you this assurance,'' Pence said in his address to the audience of diplomats, political leaders and security officials. "The United States of America strongly supports NATO and will be unwavering in our commitment to our trans-Atlantic alliance."
While saying the U.S. "will remain your greatest ally," Pence had little to say about the European Union that Trump has derided as a vehicle for German dominance. He pointed out that currently the U.S. accounts for about 70 percent of the North Atlantic Treaty Organization's overall defense expenditure and only four other NATO members meet its target to spend at least 2 percent of their gross domestic product on security.
Trump "expects our allies to keep their word" and "for most that means the time has come to do more," Pence told the Munich crowd, earning a round of muted applause.
"He said more about democracy, freedom in that one speech than President Trump said in two years," former U.S. Ambassador to Russia Michael McFaul said in an interview afterward. "That didn't sound as Mr Trump that I know. So this may be just because he is messaging for this crowd."
ECB Policy
Earlier, Merkel told the same audience during a question and answer session that Germany has raised spending by 8 percent year on year as it strives to meet the goal. She added, however, that "you can't really do more than that if you want to absorb it, and not simply argue with numbers, but rather with capabilities."
"I hope that we don't fall into a fight on whether defense can only be secured by increasing your defense spending," she said, adding that development aid should also be taken into consideration.
Merkel further grasped the opportunity to address U.S. criticism of her government policy, tackling head on comments by Peter Navarro, the head of Trump's National Trade Council, blasting Germany for benefiting from a "grossly undervalued" single currency. European Central Bank policy isn't oriented toward robust growth in the region's largest economy, but "to nations from Portugal to Slovenia or Slovakia," she said.
"If we still had the deutsche mark, it would be valuated differently than the euro is currently," Merkel said. "But that's an independent monetary policy over which I as chancellor have zero influence."
She also pushed back on Trump's claim about an abundance of Mercedes Benz cars on New York's Fifth Avenue, pointing out that Apple iPhones were ubiquitous in among the audience in the hall and "Fifth Avenue is still not exactly overflowing with German cars."
Pence later tweeted that he'd had a "productive conversation" with the chancellor "on enduring U.S.-Germany partnership and cooperation on global challenges." The vice president discussed Ukraine and Afghanistan with Merkel, along with "the need for NATO Allies to meet their burdensharing commitments," according to a further U.S. statement.
The German Chancellery cited Syria and Libya among the "important common foreign-policy challenges" that were discussed. It made no mention of NATO or defense spending.
— With assistance by Nick Wadhams, and Ilya Arkhipov
Before it's here, it's on the Bloomberg Terminal.
LEARN MORE