Turnbull Says Trump Wasting Time With 'Fake News' Complaints
By
U.S. president held combative press conference on Thursday

Australian leader says peers need to be forthright with Trump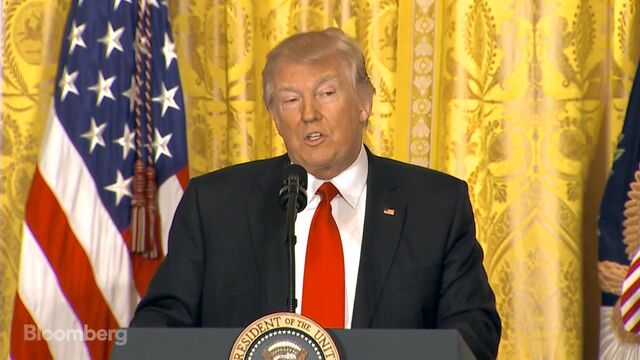 Australian Prime Minister Malcolm Turnbull, who had a heated phone call with President Donald Trump last month, said the U.S. leader is wasting his time complaining that the media is spreading "very fake news" about his administration.
Trump used a 77-minute press conference in Washington on Thursday to lambaste the press, which has reported about alleged dysfunction in the White House, and said his administration is "a fine-tuned machine."
"A very great politician, Winston Churchill, once said that politicians complaining about the newspapers is like a sailor complaining about the sea," Turnbull told reporters in New Zealand on Friday when asked about Trump's "fake news" claims. "There's not much point. It's the media we live with, and we have to get our message across, and we thank you all in the media for your kind attention."
Relations between the U.S. and Australia hit a low point in early February after Trump blasted a refugee resettlement plan agreed to by predecessor Barack Obama, calling it a "dumb deal" in a late-night tweet. That came after the Washington Post reported that Trump berated Turnbull in a phone call and "abruptly ended" their conversation.
Key Ally
Trump later dispatched two of his top advisers to reassure Australia's ambassador of American support for the alliance, and told business leaders in Washington "I love Australia as a country."
Australia, a key U.S. ally, is the only country to have fought in every conflict with American forces since World War I, and is currently flying combat missions in Syria. Turnbull said on Friday his government would consider on its merits any approach from the U.S. to increase Australia's military presence in the Middle East in the fight against Islamic State.
Turnbull, 62, was asked in the New Zealand briefing how world leaders should approach dealings with Trump.
"The only approach to take when dealing with any president or any prime minister is to be frank and forthright," he replied.