Swedish Inflation Slows as Central Bank Renews Krona Threat
By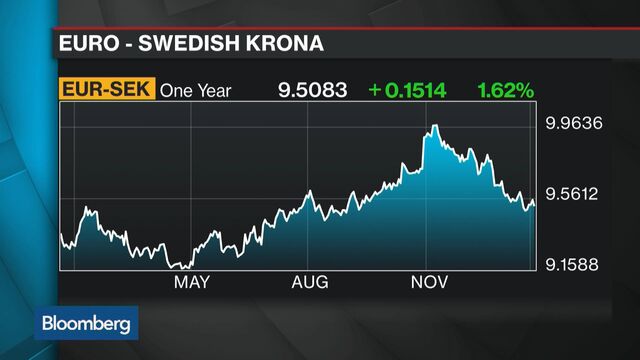 Swedish inflation slowed for the first time in four months after the central bank this week kept its record stimulus intact and extended a mandate to intervene in the currency market as it struggles to meet its price growth target.
Inflation slowed to an annual 1.4 percent in January from 1.7 percent the previous month, Statistics Sweden said. That fell short of both the central bank's and analyst estimates of 1.5 percent. Prices fell 0.7 percent in the month. The krona slid 0.1 percent to 9.46 per euro as of 10:06 a.m. in Stockholm.
According to Ake Gustafsson, an analyst at Swedbank AB in Stockholm, the weak figures confirm his view that the Riksbank won't start raising rates until April next year.
"I don't think there's anyone at the Riksbank who's very joyful at the moment," he said. "The problem is that underlying inflation is weak and there are no signs that it's on its way up, but quite the contrary."
The Riksbank on Wednesday left rates unchanged at a record-low of minus 0.5 percent, but extended a mandate to intervene in the currency market to keep the krona from strengthening too fast. It kept the door open for more rate cuts and bond purchases should inflation continue to disappoint, saying the risk for setbacks has increased given political uncertainty abroad.
Underlying inflation slowed to 1.6 percent from 1.9 percent. It was estimated to be 1.7 percent.
According to Michael Grahn, an analyst at Danske Bank in Stockholm, price growth will continue to undershoot the Riksbank's forecast. That could force the bank to extend bond purchases beyond the first half even though two of six board members in December voted against prolonging them into this year, he said.
Riksbank Deputy Governor Cecilia Skingsley -- who opposed the decision to extend government bond purchases -- on Thursday said she's in no hurry to tighten policy since higher interest rates could boost the krona and drive down inflation. A fast and sustained strengthening of the krona may push back plans to increase rates since inflation has trailed the 2 percent target for more than five years.
Nordea Bank also predicts the Riksbank won't start raising rates until April next year and only reach zero by the end of 2018.
"We forecast that the CPIF-inflation will hover between 1.5 percent and 2.0 percent during this year, said Andreas Wallstrom, chief analyst at Nordea in Stockholm, said in a note. "This would be in the comfort zone of the Riksbank as long as the krona doesn't appreciate too much."