Singapore's Growth Shock Masks a Duller Outlook for Economy
By
Fourth-quarter growth was strongest in more than five years

Construction and retail sectors still lagging, government says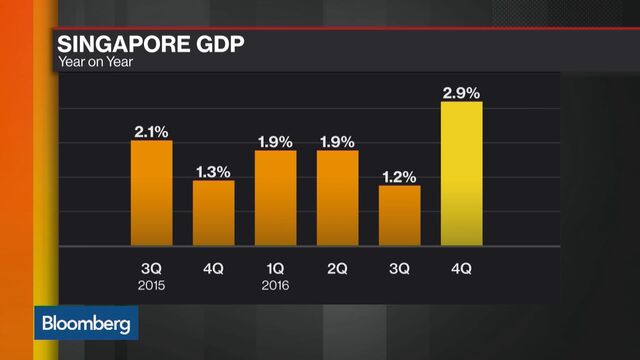 Singapore's government has a message for anyone expecting great things following Friday's surprise growth bounce: don't hold your breath.
The city-state's economy will still only expand between 1 percent and 3 percent this year, policy makers said after fourth-quarter growth burst in at an annualized 12.3 percent -- the fastest pace in more than five years. They had estimated a 9.1 percent reading, largely thanks to a surge in manufacturing fueled by semi-conductor exports tied to China's supply chain.
"We expect the rebound in electronics and in particular semiconductors to carry on into 2017," Loh Khum Yean, permanent secretary at the Ministry of Trade and Industry, told reporters. On the other hand, "the picture for the rest of manufacturing and also across the services sector is a bit mixed."
This year's growth will be "broadly similar" to that of 2016, when the economy expanded 2 percent from the previous year, he said.

The outlook is certainly patchy. The services sector, which accounts for two thirds of the economy, expanded 8.4 percent on an annualized basis. Construction, hampered by long-standing property curbs, was up a mere 0.8 percent. Loh said the retail sector, which grew just 0.6 percent in 2016, remains hindered by online rivalry and slower-than-expected wage growth.
Domestic demand also remains weak, with private consumption falling 2.3 percent in the fourth quarter from a year earlier, the first decline since the 2008-2009 financial crisis.
"The GDP data has again confirmed that the underlying economy is slowing rapidly," said Vaninder Singh, a strategist at Natwest Markets in Singapore.
Electric Shock
Brian Tan, an economist with Nomura Holdings Inc in Singapore, said the robust fourth-quarter should be understood in the context of a better-than-expected performance of Asian countries during the period. It's stronger domestic demand that's needed to put the local economy on a higher gear, he said.
"The drivers have been similar as in other economies," said Tan. "The electronics pickup has lifted all boats and Singapore is no exception.''
Much of Singapore's semi-conductor output is shipped to China, where it ends up as part of electronics products sold across the world. It's a gloomier picture in the city-state's marine and offshore sector, which "is not expected to do well this year," said Yong Yik Wei, director of the MTI's Economics Division.
"The oversupply situation in the offshore rig market is still quite severe, and oil prices are still low compared with oil's historical level," Yong said. "So we don't see new orders picking up there quickly."
A comparison with neighboring economies isn't flattering. Singapore's year-on-year growth is still below that of Indonesia's and Malaysia's, according to Krystal Tan, an economist with Capital Economics Ltd. in the city-state. She described the quarterly GDP reading as "very volatile."