French Left Pushes for Single Presidential Bid Despite EU Split
By and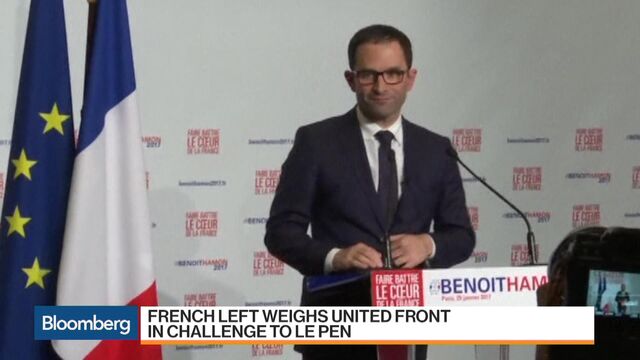 Socialist Benoit Hamon may find common ground with Jean-Luc Melenchon as they seek ways to avoid the worst showing for the French Left since 2002. On one subject, however, their differences may be too hard to bridge: Europe.
There's a lot that unites the two, from steering the country away from nuclear power and increasing the minimum wage to labor protection, and an alliance between Hamon and Melenchon, after years of bickering, would be the latest surprise twist in the French presidential race. Yet while Hamon sees France at the heart of Europe, Melenchon calls for France to exit European treaties.
Melenchon wants "an immediate end to the application of European directives that put into question the public services of our country and a move to Plan B in case of failure of discussions with European partners to end budgetary treaties, " he said, according to his letter to Hamon published on the website Mediapart. He said he was open to talks.
While some observers see that differing views on Europe as a dealbreaker, the possibility of an alliance between the two nevertheless roiled the French bond market on Friday amid fears that the move may elbow out centrists from the second round and improve the anti-euro Marine Le Pen's chances of victory in the May run-off.
Melenchon, 65, left the Socialist Party in 2008 after 35 years including two as education minister. Now backed by the Communist Party, he uses YouTube and holograms to lure more voters to his rallies. Hamon, 49, is also a former education minister but no carbon-copy of Melenchon's program. Here's what Hamon and Melenchon agree and disagree on:
*What unites them:
- Wage increases for low-income groups
- Taxing global technology firms
- Opposition to EU free-trade agreements
- More power to the parliament
- Progressive reduction or exit from nuclear power
*What divides them:
- The EU:
Melenchon calls for France to exit European treaties, though he doesn't mention the euro; Hamon seeks a new European pact and less stringent budget rules
- Investment pump:
Melenchon wants to create millions of jobs by diverting 100 billion euros ($106.3 billion) from the European Central Bank; Hamon seeks a new EU-wide investment plan
- French debt:
Melenchon wants to erase French government debt as "no state debt in Europe will be ever paid"; Hamon wants to cancel debt for just the EU's most indebted nations
- Universal income:
Hamon proposes, over the long term, a basic income of 750 euros a month for all citizens; Melenchon opposes it
By himself, Hamon -- with 16 percent-- would rank fourth in the April presidential first round, according to an OpinionWay survey published Friday, while Melenchon would get 13 percent support. The Green Party candidate Yannick Jadot, who is also in talks with Hamon, would get 2 percent, the survey shows. An arithmetic addition of their poll numbers would give the combination candidate 31 percent, placing him first.
The candidate of the center-right Republicans party, Francois Fillon, and independent Emmanuel Macron are neck-to-neck at about 20 percent, trailing Le Pen, who's at 26 percent.