Fillon Wants Britain Out of EU as Soon as Possible, Adviser Says
By and
French presidential candidate backs Barnier to negotiate

Fillon says EU needs to end uncertainty on U.K. and move on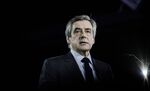 French presidential candidate Francois Fillon wants to see Britain leave the European Union as soon as possible and is confident that the bloc's main negotiator will drive a hard bargain, his diplomatic adviser said.
"You can't have one foot in an one foot out," Bruno Le Maire, the former minister who is handling foreign affairs for Fillon, said in a telephone interview. "We need to organize the exit as quickly as possible to respect the interests of France and Europe."
The comments suggest the Brits will have little chance of winning an extension on their two-year negotiating period if Fillon is in the Elysee palace as the clock ticks down, regardless of whether they like the terms on offer or not. Daily tracking polls put the Republican candidate neck-and-neck with independent Emmanuel Macron for second place in the initial round of France's presidential elections, with either of them then going on to win power by defeating Nation Front leader Marine Le Pen in the run-off in May.
"Our red line is that the U.K. cannot want to leave the EU and negotiate the advantages equivalent to EU members," Le Maire said. "There will be no financial passport or access to the single market" if Britain sticks to its commitment to limit immigration by EU nationals.
Le Maire said that the stance isn't about punishing Britain for leaving but defending the interests of the EU's remaining 27 members. Michel Barnier, the Frenchman who will handle talks on behalf of the European Commission, has the French Republican team's full confidence.
"We know exactly how to be effective and Barnier is a very good negotiator," Le Maire said. "We don't want to have difficult relationship with the U.K. We respect their choice. Both parties have leverage in these talks."
Before it's here, it's on the Bloomberg Terminal.
LEARN MORE