China Chokes the Onshore Yuan in Its Bid to Stymie Outflows
Bloomberg News
Volume has almost halved as curbs hit mainland dollar demand

Beijing 'paying a high cost with capital controls': StanChart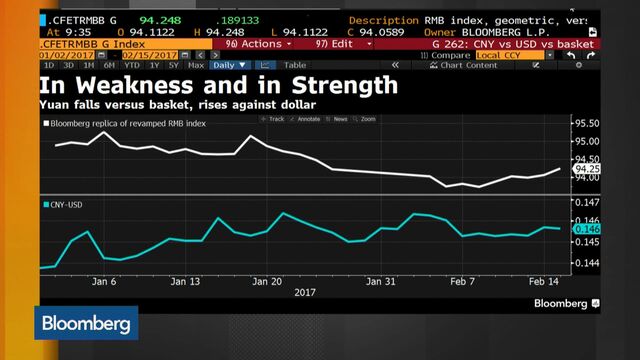 Barricading the yuan from instability is not without its costs for China's policy makers.
After soaring to a two-year high in December, average daily volumes in the onshore yuan market have almost halved from that level so far this month, as tighter capital restrictions sap bank trading amid sliding demand from customers for dollars.

It's the latest sign Beijing's efforts to prevent a flight to foreign currency may be working too well -- torpedoing mainland trading in the yuan and undermining China's campaign to bolster the currency's usage internationally. Yuan deposits in Hong Kong have slumped to a four-year low, while its share of global payments is near the least since 2014.
"China is paying a high cost with its capital controls," said Ding Shuang, chief China economist at Standard Chartered Plc in Hong Kong. "The contraction in transactions is a sign that companies had to cut back some trading which could've made their business easier. It's also a setback for the nation's plan to develop the foreign-exchange market with more diversified yuan products."
When devising their strategy of how to arrest yuan losses last year, China decided to bolster capital curbs rather than keep tapping their foreign-exchange stockpile. While the currency has rallied in response, the measures taken -- limiting companies' abilities to buy overseas assets as well as the transfer of Chinese currency abroad -- are stifling development of the onshore market. That's a step backward for the country's bid to cement the yuan as an international reserve currency, Standard Chartered's Ding says.
Daily onshore trading volumes for the yuan have fallen to $18.1 billion in February, down from an average of $34 billion in December, according data from China Foreign Exchange Trade System. Officials imposed a raft of controls from November, as the yuan accelerated losses toward the end of the year, capping its biggest annual decline in more than 20 years.
Chinese banks sold a net 107.7 billion yuan ($15.7 billion) of foreign-exchange to clients in January, the least in three months, suggesting onshore demand for the greenback diminished.
Tougher Curbs
Banks were ordered to stop processing border yuan payments until they balance inflows and outflows and most offshore investments of $10 billion or more by Chinese companies have been barred. Chinese face tougher reporting requirements when they want to convert yuan into foreign currency.
China has also gotten a hand from the market, with the dollar's retreat this year amid falling Treasury yields and concern over President Donald Trump's immigration and trade rhetoric spurring natural appreciation in the yuan. Three-month implied volatility in the currency, used to price options, has fallen to the lowest level since November.

But that trend could quickly reverse should bets on the Federal Reserve raising interest rates in March solidify. A wave of low volatility has swept across asset classes this month.
"The market is also on the mode of 'watching more but acting less,' as investors see uncertainties from both China's central bank and U.S. policy makers," said Li Liuyang, a market analyst at Bank of Tokyo-Mitsubishi UFJ (China) Ltd. in Shanghai.
The turnaround in Chinese producer prices, which jumped to 2011 levels last month, is spurring speculation monetary policy will continue to be tightened. So far, China has steered clear of boosting benchmark borrowing costs, instead tightening conditions in the money markets as officials seek to clamp down on leverage while insulating the recovering economy. Capital controls have also eased pressure on foreign reserves, which fell the least in six months in January following their almost 10 percent decline last year.
"Between the two options of burning the reserves and slowing yuan internationalization with tighter capital controls, the authorities have chosen the least bad option," said Standard Chartered's Ding. "China will continue to keep the curbs tight, and will only consider loosening the controls when cross-border fund flows become more balanced."
— With assistance by Tian Chen
Before it's here, it's on the Bloomberg Terminal.
LEARN MORE