Beware of Russian Intentions Toward NATO, U.K.'s Fallon Says
By and
Engaging with Russia doesn't mean letting guard down: Fallon

U.K. defense chief comments on U.S., trans-Atlantic alliance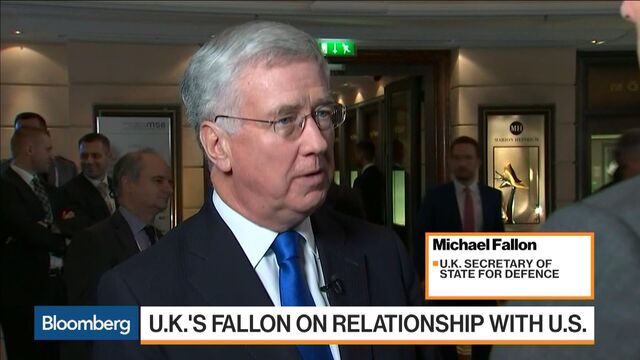 U.K. Defense Secretary Michael Fallon said NATO members need to "beware of Russian intentions," even while engaging with Russian policy makers to avoid conflict and ease tension.
Member countries of the trans-Atlantic military alliance, which was founded to protect Europe from Soviet encroachment after World War II, need to reach out to "explain what our deployments are in NATO" and talk to the Russians about regions where they have influence, Fallon said in a Bloomberg Television interview on Friday.
"But what we say is yes, engage with Russia but beware -- beware of Russian intentions, Russian aggression and increasing Russia bad behavior, not least in the democratic processes of our countries," Fallon said on the sidelines of the Munich Security Conference.
How U.S. President Donald Trump's administration envisages the North Atlantic Treaty Organization's role and future relations with Russia is a key topic during a week when Defense Secretary James Mattis and Vice President Mike Pence are holding their first high-level talks with U.S. allies in Europe. While the U.K. is leaving the European Union, Prime Minister Theresa May's government says it intends to remain a naval and nuclear power within NATO.
"I'm in no doubt about America's commitment to the military alliance," Fallon said. "I'm also in no doubt about America's commitment in the war against terror in the Middle East." For the U.K., Europe "remains our continent and we're going to go on helping to defend it," he said.