YouTube Meets Boob Tube as Europe's Networks Chase the Young
Broadcasters target viewers on the go amid stalling ad sales.
By and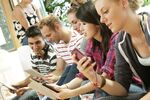 Since its founding in 1983, French pay-TV provider Canal Plus Group has become one of Europe's top backers of films and television series, co-producing blockbusters such as Bridget Jones's Diary and hourlong shows like The Young Pope. Lately, Canal Plus has started emphasizing an entirely new format: serialized comedies and dramas delivered in 5- to 10-minute segments.
The company has set up a new unit, Studio+, which last fall released its first batch of series in Europe and Latin America, aimed at people who watch on their phones. It costs €4.99 a month to access the entire catalog, which ranges from Brazilian thriller Crime Time—Hora de Perigo to U.S. skateboard romance Joy. Studio+ seeks to release a series a week, spending about €1 million ($1.1 million) on each "season" of about 10 episodes. Canal Plus parent Vivendi has signed distribution deals with carriers across Europe. "TV channels have digitalized their shows but not their revenues," says Dominique Delport, who heads Vivendi's content business. "Broadcasters need to widen their scope."

Canal Plus joins other European networks faced with stagnating ad sales and growing competition for viewers from the likes of Netflix and Amazon.com. To fight back, they're tailoring shows for a younger audience accustomed to viewing on the go. European broadcasters seek to "bridge the gap between mobile and TV," says Jérôme Bodin, an analyst at Natixis.
While major U.S. networks such as Viacom's Comedy Central and Comcast's NBC post shows—original and recycled—on YouTube, Snapchat, and Facebook, they're not putting a lot of energy into short-form for mobile because the financial rewards remain small. YouTube collects billions of dollars in ad sales each year, but traditional media companies get a relatively small share of that. A similar dynamic exists on Snapchat, which in 2016 generated $404 million in revenue, of which media companies got $58 million. And while Netflix can be watched on the go, its company execs expect subscribers to stream mainly in the living room.
Ad spending on phone screens still lags TV in most of Europe, but it's catching up fast. Advertising sales for mobile in France, Germany, and the U.K. will reach $21.2 billion in 2019, an 82 percent increase from last year's $11.6 billion, researcher EMarketer predicts. During the same period, TV ad sales will rise just 3.6 percent, to $15.6 billion. In Germany, one of Europe's healthiest TV markets, people spent more than twice as much time watching TV as they did looking at smartphones in 2015. Yet TV time will hover at about 220 minutes daily until 2019, while mobile will increase by a third, to 142 minutes, according to EMarketer. "Combining strong TV brands with mobile helps us create further growth," says Christof Wahl, chief operating officer at German broadcaster ProSiebenSat.1.
Traditional broadcasters can still find huge audiences—and lucrative ad deals—with soccer mega-events such as the UEFA Champions League and the World Cup. Prices for those matches, though, have skyrocketed. Rights for Britain's Premier League soccer have almost tripled, to £1.7 billion ($2.1 billion) a year, since the start of the decade.
Some broadcasters have found a lower-cost alternative in online networks that bring together YouTube channels featuring clips on everything from yoga to computer gaming and cooking to basketball shots. Bertelsmann's RTL Group, which has interests in about 60 channels across Europe and Asia, bought 51 percent of a web video network called BroadbandTV in 2013. A year later it invested in SpotX, which specializes in selling online and mobile video ads. RTL's combined digital video views jumped to 105 billion in 2015, six times their level two years earlier. The group has since financed short-form shows made specifically for young mobile audiences, including Continuum, an online music project started in December in which musicians from four countries perform together virtually on YouTube.
ProSiebenSat.1, Italy's Mediaset, and France's TF1 agreed in January to jointly push their web video efforts, creating scale to better negotiate with big advertisers. The alliance's prime asset, Studio71, racks up 6 billion video views a month with stars ranging from Hollywood big shots such as Dwayne "The Rock" Johnson to LeFloid, a tattooed 29-year-old German who became the first YouTuber to interview Chancellor Angela Merkel. "Mobile is complementary to traditional TV," says Régis Ravanas, executive vice president for advertising and diversification at TF1. "It's a way of reaching another type of viewer."
 
—With Lucas Shaw
The bottom line: As traditional TV ad sales stagnate, European broadcasters are creating short-form series for mobile viewers.
Before it's here, it's on the Bloomberg Terminal.
LEARN MORE