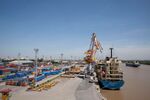 Because of its export-driven economy, Vietnam probably would have benefited from the Trans-Pacific Partnership trade treaty more than any other nation. Now that President Donald Trump has withdrawn the U.S. from the deal, Vietnam is turning to its Asian neighbors.
The end of the treaty "will push us to expand in other markets," says Nguyen Duc Kien, deputy head of the National Assembly economic committee. "We have a lot of potential to increase exports" to markets in the Association of Southeast Asian Nations and to some "countries where we have bilateral trade agreements, such as Japan."
The U.S. is by far the largest customer for the apparel, electronics, furniture, and shoes that Vietnam makes and will probably remain so for some time. In five years, Vietnam doubled the value of its exports to the U.S., to $38.5 billion in 2016. The TPP would have dramatically lowered or eliminated the tariffs the U.S. imposes on Vietnamese goods.
Long before Trump withdrew from the treaty, the Vietnamese were cultivating other ties. "Vietnam is more active than other countries in forging trade deals, and that allows it to diversify its risk," says Eugenia Victorino, an economist at Australia & New Zealand Banking Group in Singapore.
Vietnam has nine free-trade agreements (FTAs), including deals with India, South Korea, Australia, and New Zealand. Seven more are being negotiated. "We are not so concerned about TPP ending," says Nguyen Van Tuan, deputy general secretary of the Vietnam Textile and Apparel Association. "We will look at ways to boost exports to the EU."
Prime Minister Nguyen Xuan Phuc hopes to revive the TPP. If the trade pact continues to exist in some form, the government can use the agreement's terms to modernize the economy, says Tran Viet Thai, deputy director general of the Diplomatic Academy of Vietnam in Hanoi, where the country's foreign service officers are trained. "TPP is not only about market access. It is also a driving force for reform, from legal to labor to transparency and anticorruption," he says. Australia is interested in resurrecting some version of the partnership with Vietnam and other Asian countries.
The more free-trade agreements that Vietnam signs, the less it will have to rely on China and its Regional Comprehensive Economic Partnership for the benefits of international commerce. "With the U.S. withdrawing from the TPP, there is a vacuum, and China wants to fill it," Thai says. "But to lead, there has to be give-and-take, and at this moment, China doesn't want to give," he says, referring to China's reluctance to open its markets. "No one wants to give when populism and anti-free-trade sentiments are on the rise."
The bottom line: Vietnam has free-trade agreements to compensate for the lower tariffs with the U.S. that the TPP would have provided.
Before it's here, it's on the Bloomberg Terminal.
LEARN MORE