Uber's Former Chief Adviser Fined for Illegally Lobbying Chicago Mayor
David Plouffe sent e-mail to his former Obama colleague without registering as a lobbyist.
By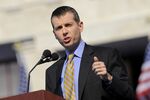 In 2015 David Plouffe, then the chief policy adviser for Uber Technologies Inc., was worried after the ride-hailing company was blocked from picking up passengers at Chicago's airports. So he e-mailed Chicago Mayor Rahm Emanuel, his former White House colleague, for help.
But Plouffe wasn't registered with the city as a lobbyist for Uber. Chicago's ethics board voted unanimously Thursday to fine Plouffe $90,000 for violating lobbying laws. Uber was fined $2,000 for the violation.
Uber didn't contest the judgement, but it did object to the size of the fine, Chicago officials said in a statement. The San Francisco-based company argued that it was a one-time violation, so Plouffe should have been fined $1,000. Instead, the ethics board found that Plouffe had to pay a much larger fine because he'd failed to register for 95 business days.
"We work hard to ensure our registrations are accurate and up to date," Matt Wing, a spokesman for Uber, wrote in an e-mail. "We regret that in this instance we made a mistake, and we will comply with the board's assessment."
Plouffe joined Uber in 2014 to oversee the company's policy and strategy after he successfully managed Barack Obama's first presidential campaign. His deep political connections extended throughout Washington, including with Mayor Emanuel, who was Obama's original White House chief of staff. Plouffe and a spokesperson the mayor didn't immediately respond to requests for comment.
Silicon Valley has offered a welcoming home for political operatives after serving in Washington. Senior ranks at Amazon.com Inc. and Google include former Obama officials. The communications team at Airbnb Inc., which came up around the same time as Uber and faces similar government resistance, is run by Chris Lehane, a former Bill Clinton confidante.
In 2015, Uber hired Rachel Whetstone from Google, a onetime aide to the U.K. Home Secretary, to run policy and communications, as well as Jill Hazelbaker, a former communications director for John McCain. Plouffe then took on the role of chief adviser and board observer at Uber. That job had Plouffe negotiating with mayors in New York, Mexico City and elsewhere. In that capacity, he sent the e-mail to Emanuel.
"Assume both of us thought the airport issue was settled and we would never have to discuss again, but unfortunately two significant new hurdles were introduced," Plouffe wrote in November 2015. "Coming to you because of their severity that would prevent us from operating. We were all set to announce Monday we were beginning pickups."
WME-IMG, the Hollywood talent agency co-run by the mayor's brother Ari Emanuel, is an investor in Uber. Plouffe left his Uber chief adviser role in January when he joined the Chan Zuckerberg Initiative, the philanthropic group started by Facebook Chief Executive Officer Mark Zuckerberg. Uber operates in both of Chicago's major airports today.
Before it's here, it's on the Bloomberg Terminal.
LEARN MORE