U.S. Defense Chief Says Russia Must Obey International Laws
By
Mattis says U.S. will engage with Russia politically

'Very little doubt' Russia interfered in elections, he says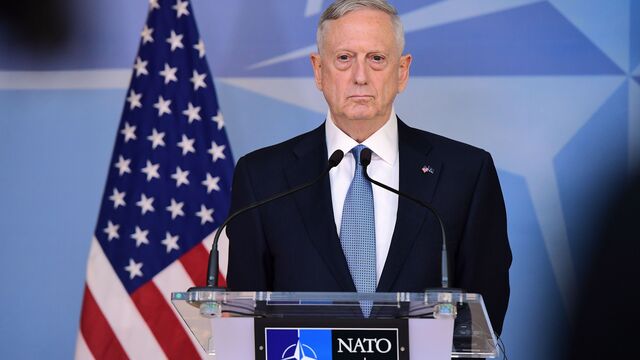 Secretary of Defense James Mattis said the U.S. will make political overtures to Russia but that Moscow needs to abide by international rules and treaties.
"The point about Russia is they have to live by international law just like we expect all mature nations on this planet to do," Mattis told reporters on Thursday after a NATO meeting in Brussels. "We'll engage politically; we're not in a position right now to collaborate on a military level."
Mattis used the gathering at the North Atlantic Treaty Organization to reaffirm U.S. support for the alliance while also calling on nations to meet their defense spending targets. Russia's annexation of Crimea and military operations in eastern Ukraine have shaken Europe as NATO has struggled to work on constructive relations with Moscow.
"We're working for a more constructive relationship with Russia," NATO Secretary General Jens Stoltenberg told reporters. "But of course our dialog with Russia has to be based on some core principles, the respect for the territorial integrity of all nations, states in Europe, including Ukraine, and of course we need to combine dialog with credible deterrence."
U.S. intelligence agencies said they had "high confidence" in a declassified report that Russia interfered with last year's presidential elections. They said Russian President Vladimir Putin personally directed a hacking and disinformation operation that sought to undermine Democrat Hillary Clinton and, eventually, to help Donald Trump win.
While Mattis didn't comment on the U.S. intrusion, he did give broad acknowledgement of Russian meddling.
"There's very little doubt that they have either interfered or they've attempted to interfere in a number of elections in democracies," Mattis said.
Before it's here, it's on the Bloomberg Terminal.
LEARN MORE