Trump Team Sows Confusion on Two-State Solution for Mideast
By
Choice for envoy sees 'tremendous benefit' but doubts it works

France's Ayrault calls U.S. position 'confused and worrisome'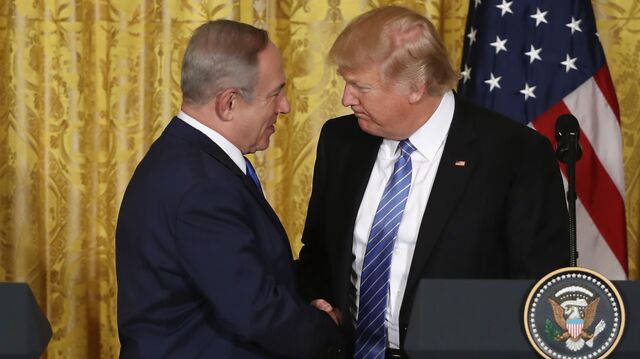 A day after President Donald Trump said he's not wedded to a "two-state solution" for resolving the Israeli-Palestinian conflict, two of his leading advisers said they'd be happy if that long-frustrated U.S. goal could still be reached.
While the statements weren't in conflict with Trump's remarks alongside Israel's Prime Minister Benjamin Netanyahu at the White House on Wednesday, they added to confusion about Mideast policy in the new U.S. administration.
"A two-state solution, if it could be achieved, would bring tremendous benefit to both Israel and the Palestinians," David Friedman, Trump's choice as ambassador to Israel, said Thursday during his confirmation hearing before the Senate Foreign Relations Committee. "I've expressed my skepticism on the basis of Palestinians' inability to renounce terror and accept Israel as a Jewish state."
Nikki Haley, the U.S. ambassador to the United Nations, echoed that theme in New York, saying the U.S. still supports a two-state solution, but that Trump is looking for fresh ideas and "thinking outside the box." She said the president was asking, "What does it take to bring these two sides to the table?"
At a joint news conference with Netanyahu, Trump opened the way for a single state, to cheers from conservatives in Israel and denunciations from Palestinians.
Allied Reaction
"I like the one that both parties like," Trump said of the path to peace during a joint news conference with Netanyahu. "I can live with either one. I thought for a while that two states looked like the easier of the two. If Israel and the Palestinians are happy, I like the one they like the best."
U.S. allies seemed surprised by the apparent softening in U.S. demands for a two-state solution. The U.S. position is "confused and worrisome," French Foreign Minister Jean-Marc Ayrault said after meeting Thursday with U.S. Secretary of State Rex Tillerson in Bonn, Les Echos reported.
"The U.K.'s view is that the best way to achieve peace in the Middle East is through the two-state solution," said Matthew Rycroft, the U.K.'s envoy to the UN.
Although he has led an organization that raises several million dollars a year for a religious school in the controversial West Bank settlement of Beit El, Friedman said he didn't support an Israeli annexation of the territory, which has long been considered the future home of a Palestinian state. Trump on Wednesday urged Netanyahu to "hold off" on expanding settlements in the West Bank.
'Tread Very Carefully'
"I think the expansion of settlements into new territory, beyond borders, I agree with the president, may not be helpful," Friedman said. "It makes sense to tread very carefully in that area."
But Friedman wasn't able to avoid criticism for his disparaging comments against former President Barack Obama for supporting the Iran nuclear deal and of J Street, a U.S. Jewish group that's frequently critical of Netanyahu's government. Friedman at one point had likened J-Street to "kapos" -- Jews who oversaw fellow concentration camp prisoners under the Nazis during World War II.
Friedman promised to be more diplomatic in his dealings as an ambassador.
"These were hurtful words, and I deeply regret them. They are not reflective of my nature or my character," Friedman said. "I have profound difference of opinion with J Street. I don't think that will change. My regret is as to language and rhetoric."
Not all were convinced. Senator Ben Cardin of Maryland, the top Democrat on the committee, said he had doubts about Friedman's suitability and temperament.
"I have questions about your preparedness for this position," Cardin said. "I am unsure of how an individual with your record will or can represent all Americans to all Israelis."
Before it's here, it's on the Bloomberg Terminal.
LEARN MORE