Tillerson Condemns North Korea Test as U.S. Policies Take Shape
By
U.S. 'steadfast in its defense commitments to its allies'

Tillerson attempts to reassure allies at G-20 meeting in Bonn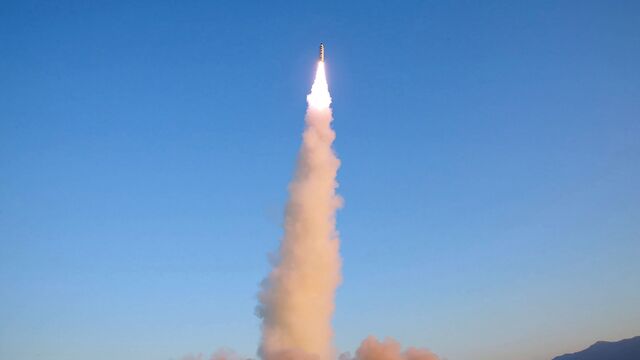 U.S. Secretary of State Rex Tillerson vowed that North Korea's violations of United Nations Security Council resolutions will bring an "even stronger international response," using a Group of 20 meeting in Germany to reiterate the U.S. stance on the North's nuclear program and other top foreign-policy challenges.
The statement, issued jointly with the foreign ministers of Japan and South Korea after Tillerson met with his counterparts on the sidelines of the G-20 meeting in Bonn, condemned "in the strongest terms" a Feb. 12 ballistic missile test and noting the North's "flagrant disregard" for UN Security Council resolutions.
"Secretary Tillerson reiterated that the United States remains steadfast in its defense commitments to its allies, the Republic of Korea and Japan, including the commitment to provide extended deterrence, backed by the full range of its nuclear and conventional defense capabilities," the statement read.
The remarks came near the end of a day in which Tillerson was scheduled to hold about a dozen bilateral meetings with top officials from nations including Saudi Arabia, the U.K. and France. He used the opportunity to reassure allies unsettled by President Donald Trump's suggestion the U.S. wasn't as committed to allies as it once was and might seek closer ties to Russia.
Seeking Reassurances
Officials around the world have been looking for reassurances from Tillerson and other top U.S. officials in the wake of Trump's campaign remarks, television interviews and tweets, in which he has belittled the NATO alliance, threatened a trade war with China and pressed ahead with his intention to make Mexico pay for a wall.
Earlier in the day, Tillerson met Russian Foreign Minister Sergei Lavrov, and later reiterated Russia's need to honor commitments to end the violence in Ukraine.
"As I made clear in my senate confirmation hearing, the United States will consider working with Russia when we can find areas of practical cooperation that will benefit the American people," Tillerson said. "Where we do not see eye to eye the United States will stand up for the interests and values of America and her allies."
Read more on North Korea's nuclear ambitions
While Tillerson's comments were otherwise limited, readouts from counterparts he met provided a fuller picture of his activity at the G-20 meeting. A statement from the U.K. Foreign Office said Tillerson and Foreign Secretary Boris Johnson discussed the need to defeat the Islamic State and work toward peace in Syria.
Speaking with Russian reporters, Lavrov said Tillerson had lent his support to talks in Kazakhstan to end the war in Syria. And a German official, speaking on background, said Germany was encouraged by Tillerson's statement committing the U.S. to the Minsk peace process.
"I was pleased that there was a high level of agreement, because no state in the world can resolve the problems we have alone," German Foreign Minister Sigmar Gabriel, who hosted the G-20 meeting, told reporters after the first session Thursday. "On climate change, terrorism, migration -- we can't solve any of that within our national borders."
— With assistance by Patrick Donahue
Before it's here, it's on the Bloomberg Terminal.
LEARN MORE