The Known Unknowns of Brexit: What Theresa May Still Won't Say
By
Questions persist over what she wants versus what she can get

Early talks will pivot around structure of negotiations, bill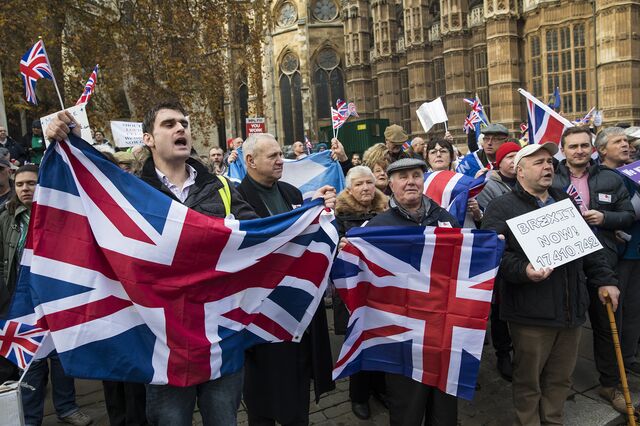 The long and short of what Prime Minister Theresa May has said about Brexit can be found in a 75-page report to Parliament, her 6,000-word speech to an audience of diplomats, and a 137-word bill.
That still leaves a lot of questions unanswered as the clock ticks down on May formally triggering the U.K.'s withdrawal from the European Union. Here is a rundown of the key points that remain unresolved.
When will May trigger Article 50?
Her preferred date for notifying the EU is the subject of speculation but remains a mystery. Senior government officials expect she will want to avoid clashing with the EU's planned celebrations of the 60th anniversary of the bloc's founding Treaty of Rome, on March 25.
Some think May would like to make the announcement in person on March 9 or March 10 at the EU summit in Brussels. Others suggest she could make a speech in the U.K. and send the European Commission an e-mail.
What could push May beyond the first couple of weeks of March is if the House of Lords amends the bill, forcing peers and lawmakers in the House of Commons to find a compromise.
How will Brexit talks be structured?
The commission's chief negotiator, Michel Barnier, has said he wants to "take things in the right order,'' a signal he would prefer to deal with the divorce first, then the new relationship and save a possible transitional phase for a later stage. Doing it that way would also allow the EU to exact a price from the U.K. before deciding how much access to grant Britain to its markets.
Barnier's British counterpart, David Davis, said time is so short that there must be overlap and simultaneous negotiations to finalize an agreement by October 2018 to meet a two-year deadline and to allow lawmakers in London and Strasbourg to vote. This approach would help the U.K. to horse trade.
So the first topic for negotiation is likely to be the negotiations themselves. Much will depend on the mandate the 27 other governments give Barnier.
How much will the divorce cost?
Brexit will mean Britain no longer pays ''huge sums" to the EU, but it could make "an appropriate contribution'' in order to take part in certain programs, May said in January.
Long before she gets to that stage, the U.K. is certain to face a chunky bill for its outstanding liabilities, such as pension contributions to EU civil servants and funding for long-term projects that have already started. Trade Secretary Liam Fox dismissed the idea of a bill as "absurd.''

Britain's former envoy to the EU, Ivan Rogers, said the exit fee could be as much as 60 billion euros ($63 billion). The Centre for European Reform said it could be even higher: 73 billion euros. The Bruegel think tank argues that the U.K.'s claims on some of the EU's assets could reduce the overhead.
Bartering is likely over both the exit bill and the amount that Britain will be willing to pay. It's a tricky political calculation for May, because Brexit campaigners such as Boris Johnson pledged to return "350 million pounds a week" that they said was paid to the EU.
What about immigration rules?
Controlling -- and cutting -- immigration is the overriding priority for May, as she seeks to honor a key demand for most British voters. In fact, the U.K.'s future migration regime is unlikely to feature at all in the Brexit talks, according to May's team: it will simply be none of the EU's business.
The fate of EU citizens in the U.K. will become clearer as the talks progress. Any "implementation phase'' needed to bridge the gap between full EU freedom of movement and the U.K.'s new rules will have to be negotiated.
Possible options ministers have sketched out include charging British businesses 1,000 pounds ($1,240) a year for each worker they hire from the EU, and an annual cap on European migrant numbers. They could also adopt a U.S.-style visa system.
Ministers insist they will always welcome "clever financiers'' and other highly-skilled employees, anticipating that London will remain the capital of finance.
Davis said it will take "a long time'' before the new arrangements are put in place. While this might please businesses, a delay could be politically costly for a prime minister with an eye to elections.
But what about EU citizens living in the U.K.?
May has said she wants to guarantee the rights of the 3 million or so EU citizens living in Britain and the rights of 1.2 million Britons living in the bloc "as early as we can."
Most EU countries agree in principle but are toeing the line that they won't negotiate before Article 50 is invoked. So-called acquired rights will be an early discussion when the talks begin.
How long will the transition last?
After talks lasting as long as two years, May wants "a phased process of implementation'' to help Britain and the EU adjust and to make sure businesses do not face a "cliff edge.''
Little detail has been provided about what these arrangements will involve – whether, for example, the U.K. could remain fully inside the single market for some years or still be beholden to European courts –- or how long a transition could last.
Businesses want a long stretch of time to adapt, with the finance industry saying it needs a minimum of three years. Davis has said they could get just one or two years. An extended period could put May in the crosshairs of Brexit campaigners who want a clean break.
Answers to this will determine whether companies decide to relocate. Barnier has said any stop-gap will be short and discussion of it will be late in the process. The longer it takes, the more likely banks and business will have started shifting jobs and operations out of the U.K.
What kind of trade deal?
May wants a "bold and ambitious free trade agreement" with the EU. That doesn't offer any clarity on what the deal will cover, or how.
Will financial services be part of it at all? How will U.K.-based banks be licensed to operate across the bloc? Has the government given up all hope of being able to retain passporting rights? Can London keep euro-clearing?
The U.K. is not even asking to retain single market membership but exactly what kind of access May wants, or is likely to be offered, is a mystery. EU leaders keep repeating she can't "cherry pick."
How will customs work?
Britain is leaving the EU customs union's tariff regime and commercial policy in order to strike its own free-trade deals with countries outside Europe. Laying the groundwork for a bilateral agreement with the U.S., for example, was a priority for May when she went to visit President Donald Trump.
With her ex-EU partners, May wants to keep the benefits of "frictionless" movement of goods across borders in a new, bespoke "customs agreement'' that would avoid distorting supply chains for businesses. She's said this will be "mutually beneficial'' to both the U.K. and other EU countries.

Who will enforce the new trade rules?
A dispute resolution mechanism will need to be devised for any new free trade agreement, though May is adamant that the U.K. will escape the grip of the European Court of Justice, whose rulings currently hold sway over British law.
The government lists several possible models for resolving disputes between Britain and the EU, including the use of arbitration panels based on the EU-Canada trade deal. An entirely new model could also be devised especially for the U.K.
What is May willing to offer the EU?
The U.K. could offer some cash, though not much, to compensate for the budgetary loss of its departure. May has also indicated that if talks turn sour then current joint work on security, intelligence and military collaboration could stop, but does she really mean it?
Will travel be harder?
The U.K. shares a land border with Ireland, an EU member, and is determined to avoid it becoming a hard barrier by keeping the Common Travel Area between the two countries. That arrangement pre-dates the EU though European governments may worry about a porous border.
Beyond Ireland, there are many questions about how easy it will be for Britons to visit EU countries. What will the border look like at the Channel Tunnel and how long will it take to pass? Will visas be required? What about mobile roaming charges?
Will the U.K. be part of the "open skies'' policy, allowing frequent, cheap flights between Britain and Europe? And what if travelers fall ill? The European health insurance card scheme provides reciprocal services between EU members – and will need to be renegotiated if Britain wants to stay inside it.
— With assistance by Thomas Penny, Alex Morales, Eddie Buckle, and Ian Wishart
Before it's here, it's on the Bloomberg Terminal.
LEARN MORE