Lacking Hedge, Europe's New Bank Bonds Not for the Fainthearted
by and
Bond insurance fails to cover all new types of bank securities

Derivatives market hasn't yet adapted to creation of new notes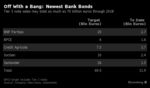 Post-crisis rules designed to safeguard Europe's financial system have left bank bond markets fragmented, exposing investors to more losses than ever.
The reason has to do with hedging, or rather the lack thereof. Banks are employing different approaches in different countries to meet more stringent capital requirements and many new securities aren't explicitly covered by credit-default swap contracts, the method of insurance favored by bondholders.
The lack of a safety net in a selloff is glaring since new European regulations are expressly designed to make sure the onus of rescuing banks falls on creditors rather than taxpayers, who bore the brunt of the cost almost a decade ago. Lenders have sold about 214 billion euros ($227 billion) of new kinds of bonds since regulations started taking effect.
"The credit-default swap market hasn't kept up with the fast-moving changes in bank bonds," said Louis Gargour, chief investment officer of London-based LNG Capital, an alternative investment-management firm. "That's a problem when you want to hedge a specific part of the capital structure."

The new swathe of bond structures was born out of regulations imposed since the financial crisis, when many holders of senior bonds -- a class of debt that didn't count as bank capital -- were able to walk away with no losses even as state bailouts cost taxpayers billions of euros.
Regulators are imposing global standards known as Basel III to prevent this from happening again. The way of putting bondholders on the hook if things go badly for the bank varies from country to country.
France and Spain have created a new category of debt, known as senior non-preferred or Tier 3, that suffers losses after subordinated bonds. The U.K., Switzerland and Ireland have taken a different approach, with banks issuing notes out of holding companies so they're disconnected from the lender's operations. Germany has ruled that losses can be imposed on existing senior bonds.

The credit derivatives market hasn't kept up with the developments, creating a problem for some of the biggest asset managers and pension funds that invest in bank debt. At the same time, the market has contracted as dealers have withdrawn. Outstanding contracts on financial-company debt have dropped more than 20 percent in two years to cover a net $104 billion of borrowings, according to Depository Trust & Clearing Corp. data.
The International Swaps & Derivatives Association, which represents the credit derivatives industry, declined to comment on the effectiveness of bank-debt swaps.
The absence of explicit protection was one factor that dissuaded Ulf Erlandsson, who helps manage about $35 billion at Swedish state pension fund Fjaerde AP-Fonden, from bidding in recent sales of Tier 3 bonds. The notes fall between the two existing credit swap contracts -- senior and subordinated -- leaving bondholders insufficiently covered or overpaying for insurance.
"It's a major issue if the paper doesn't get its own credit-default swap," said Erlandsson. "Cowboy-hedging it with subordinated CDS will be extremely expensive and may not work well."
Being able to hedge the bonds adequately is becoming more important as popularity of the notes soars. France's four biggest lenders and Spain's Banco Santander SA have announced plans to sell as much as 70 billion euros of Tier 3 debt through 2018. Investors have bought about 12 billion euros of the securities in the past two months.
"Gone are the pre-credit crisis days when all we had to contend with was the simplicity of senior and subordinated credit-default swap contracts," said Gary Kirk, a founding partner at London-based TwentyFour Asset Management, which oversees about 8 billion pounds ($10 billion). "The market is going to have to change to reflect the new bank-capital products."
Bespoke Swaps
Europe's banks have sold almost 90 billion euros of holding company notes that aren't covered by swaps, according to data compiled by Bloomberg. Most swaps only cover operating company debt.
Although some banks have started offering custom derivatives, the contracts aren't standard or easy to trade, according to Sebastiano Pirro, a portfolio manager at London-based asset manager Algebris Investments, which oversees $4.5 billion in credit strategies.
"You can get specific credit swaps on banks holding company debt and probably on Tier 3 bonds but you have to ask for it," said Pirro. "If you want to hedge real credit risk you have to do it bespoke."
It's become more expensive to insure German senior bank debt since it became eligible for losses. That's helped make a credit-swap index for the region's senior financial bonds riskier and more costly to hedge portfolios, according to Sebastien Gothier, a fund manager at AG Insurance in Brussels which oversees 76 billion euros.
Riskiest Debt
"Senior debt was almost a safe haven back before the crisis and now there are ways that you'll be at risk of a loss," said Gothier. "This increases the need for credit-default swaps."
At the other end of the spectrum, banks' riskiest debt securities are also proving difficult to hedge.
So-called additional Tier 1 notes sit just above equity in the capital structure and are the first to take losses in the event of a bank failure. None of the 116 billion euros of notes issued since 2013 can be covered with credit-default swaps because they have equity-like features, including no maturity dates and coupon payments that can be switched off if a bank breaches pre-set capital levels.
Investors can protect their holdings using equity put options -- which give investors the right but not the obligation to sell at a fixed price -- though they're a "very imperfect hedge," according to Geraud Charpin, a portfolio manager in London at BlueBay Asset Management, which oversees about $51 billion.
"If you grow weary, your best option is to sell your bonds," said Charpin. "Eventually the market will be overhauled."
Before it's here, it's on the Bloomberg Terminal.
LEARN MORE