Puzder Returning to Job as Fast-Food CEO After Failed Labor Bid
By
Executive will get back to work at CKE after 'short break'

Trump nominated Acosta Thursday to fill job in Puzder's place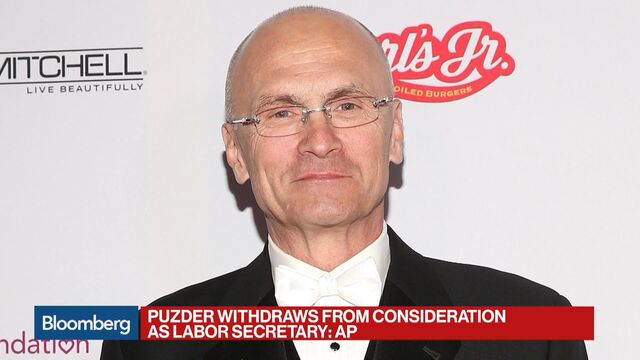 Andy Puzder, the controversial fast-food executive who dropped his bid to become U.S. labor secretary on Wednesday, will return to his job running the Carl's Jr. and Hardee's chains.
"After a short break to recharge with his family, Andy will be getting back to work," a spokesman for the executive said in an e-mailed statement on Thursday. Puzder, who serves as chief executive officer of CKE Restaurants, is currently at home in Tennessee with his wife.
Puzder, once best known for his racy fast-food advertisements, was nominated by Donald Trump in December to run the Labor Department. Since then, he's faced allegations that he abused his first wife, along with complaints about how workers were treated at CKE's Carl's Jr. and Hardee's restaurants. Puzder also admitted to employing an undocumented immigrant as a housekeeper, whom he says he let go upon learning of her status.
 
When Puzder withdrew his name for labor secretary on Wednesday, he said he would have brought "new thinking" to the job. Puzder, an attorney by trade, said he fully supports the president and his "highly qualified team."
On Thursday, Trump nominated ex-National Labor Relations Board member R. Alexander Acosta for the labor secretary position. Acosta is the first Hispanic that Trump has chosen for his cabinet.