Nestle Braces for Slowdown as New Chief Hatches Revival Plan
By
KitKat maker forecasts 2017 sales growth below long-term goal

CEO Schneider may close factories, exit underperforming units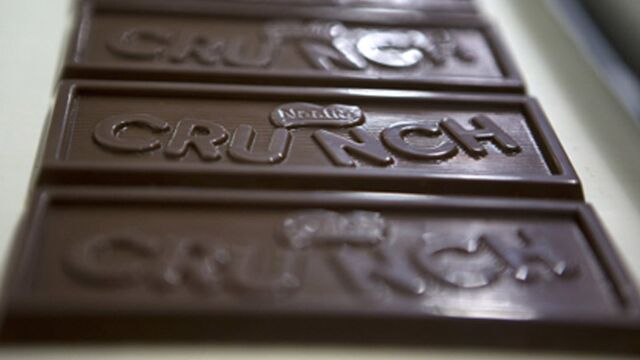 Nestle SA's new Chief Executive Officer Mark Schneider said it will take years to return to the growth rates targeted by his predecessors as the world's largest food company aims to fix underperforming businesses and trim its factory network.
The KitKat maker forecast revenue will increase 2 percent to 4 percent on an organic basis this year, below a long-held goal of 5 percent to 6 percent. Schneider also said Thursday restructuring costs will rise to about 500 million francs ($498 million) in 2017, putting pressure on profitability and sending the shares down as much as 2.3 percent.

It's taken less than two months in the job for Schneider to modify the annual growth forecasts Nestle has held onto for more than a decade. Revenue growth was 3.2 percent in 2016, missing analysts' estimates and the slowest in at least a decade, illustrating the long list of challenges facing the new CEO. Those include deflation in Europe, declining sales in China, inflation in Brazil and Russia, and increasing competition in the U.S. chocolate market.
"It is a kind of a back-to-reality," Pierre Tegner, an analyst at Natixis, said in a note. "The outlook shows that there is a lot to do."
Since 2005, Nestle has targeted 5 percent to 6 percent average annual sales growth and improvement in the margin, excluding currency shifts. Schneider said that range is too narrow for coming years, without saying whether the goals, dubbed the "Nestle Model," are being retracted. He said the new guidance is "roughly" the same thing. The food company forecast this year's margin will be little changed due to the restructuring.
It's "perhaps, the implicit official 'death' of the Nestle Model," Andrew Wood, an analyst at Sanford C. Bernstein, wrote in a note.
Schneider, the first outsider Nestle has picked to be CEO in almost a century, said he sees acquisition opportunities in the health, food and beverage industries, speaking in an interview on Bloomberg Television. However, Nestle isn't working on any major transactions because valuations of consumer-goods companies are "lofty" amid low interest rates and rising stock markets, he said.
Nestle will first attempt to fix underperforming businesses such as the Chinese Yinlu food business, and only later those that can't be fixed or are no longer strategic, said Schneider, a veteran of the healthcare industry. Nestle's 23.2 percent stake in L'Oreal SA is a "highly strategic" asset and there is no short-term urgency to alter the relationship, he added. Analysts have speculated for years that Nestle could sell the stake to fund acquisitions.
"We're in a period of an unprecedented fast-moving change in the consumer-goods industry," the CEO said. "Speed of execution, getting stuff done and implemented, recognizing new customer trends or efficiency trends and not kicking the can down the road, that's key."
Coffee, pet-food and bottled water are businesses Schneider said he plans to devote more resources to, and there's "no flagrant contradiction" in holding onto chocolate businesses amid the health push, Schneider also said. Nestle also plans to invest more in developing markets, where it got 42 percent of its sales last year.
"In terms of above-average growth, everything related to Asia-Pacific and emerging markets is still my long-term bet," Schneider said.
About half of the savings Nestle targets by 2020 will come through streamlining production at its network of more than 400 factories, Chief Financial Officer Francois-Xavier Roger said in an interview. The other half will stem from measures such as centralizing purchasing and cuts in administration, he said.
"For chocolate within Europe, we don't necessarily have to have plants in each and every single country," Roger said in his office. "We can have more synergies within given geographic areas: instead of having the same kind of production in different locations, we can better specialize them."
Nestle reduced its total headcount by 7,000 to 328,000 employees last year as it folded part of its ice-cream business into a joint venture. Roger said the company doesn't plan any "massive shrinking," but rather will close factories gradually.
Most analysts said the new CEO came across well in his first public appearance since starting in the role.
"We were impressed," wrote James Edwardes Jones, an analyst at RBC Europe. "Let's hope he executes as well as he presents. We didn't hear everything we wanted to, but we liked what we did hear."
Among other highlights:
Trading operating profit rose 3.2% to 13.7 billion francs in 2016, trailing analyst estimates for 13.9 billion
Total sales rose to 89.5 billion francs
Nestle said underlying EPS growth of 3.4% was at lower end of its expectations, it aims for improvement
Excluding restructuring, trading operating margin should improve by at least 20 to 25 basis points this year: CEO
Schneider reiterated predecessor Paul Bulcke's target for cost savings to improve margins by 2 percentage points by 2020
Pricing improved in second half and should continue getting better in 2017
CEO sees signs of a flipping point in raw material prices, some prices may become slight headwind in 2017, though effects may be delayed due to hedges: CEO
CEO sees initial signs of consumer turnaround in 2017 in China; baby-food market there to remain "choppy"
Buybacks are lower priority than dividends, investing in business
Before it's here, it's on the Bloomberg Terminal.
LEARN MORE