Warning Signs Are Flashing for Macau Casino Stocks - Again
By and
Contrarians see an equity rally that's gone too far, too fast

Shares retreat on Friday after disappointing MGM results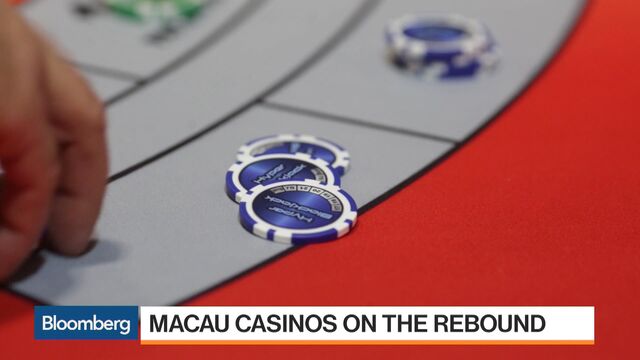 The last time investors were this optimistic about Macau casino stocks, it didn't end well.
Back then, in 2014, bulls misread a Chinese anti-corruption campaign that scared away high rollers and erased $146 billion of shareholder value. Now, as casinos rebound on hopes that small-time gamblers and tourists will fill the void, some of the same signs of unbridled investor enthusiasm are flaring up again.

Options traders are more bullish on Galaxy Entertainment Group Ltd. and Sands China Ltd.,  the two largest Macau casino operators, than at any time since at least April 2014. Sell ratings on the two stocks have disappeared, while short interest has declined to the lowest levels since the crash. The sector's price-to-earnings ratio, meanwhile, is almost 10 percent higher than its 2014 peak.
"The market's being too bullish about the quantum of industry recovery," said Vincent Khoo, a Kuala Lumpur-based analyst at UOB Kay Hian whose recommendations on Sands China over the past year produced the top return among peers tracked by Bloomberg.

There's no doubt that business has improved in Macau, the only place in China where casinos are legal. Gaming revenue has climbed for six straight months, while visitors during the critical Chinese New Year period increased 7 percent as tourists splurged on new family-friendly resorts and attractions.
Read more: Consumer spending during the Chinese New Year
The question for investors, though, is whether the up-tick justifies a 69 percent surge in the Bloomberg Intelligence Macau index from a five-year low last January through Thursday. The gauge of six casino stocks is now valued at 24 times projected earnings for the next 12 months, exceeding its peak of 22 in 2014. It fell 1.7 percent on Friday as MGM Resorts International reported a decline in revenue from table games on the MGM casino's main floor in Macau.

For Alfred Lau, a Hong Kong-based analyst at Bocom International Holdings, the past year's rally in casino stocks makes sense. Not only is industrywide gaming revenue recovering, he says, but Hong Kong-listed casino shares are also potential targets for Chinese investors who've been funneling money through the city's cross-border exchange link.
Read more: Hong Kong's biggest arbitrage trade
"The market expects liquidity to favor Macau casinos this year," said Lau, who has buy ratings on Galaxy and MGM China Holdings Ltd.

History favors the contrarians. When demand for bullish call options on Galaxy exceeded puts by this much in 2014, the stock was on the cusp of a two-year retreat. One-way bets on Sands China are also similar to those at the peak three years ago. While positioning is less extreme for MGM China, options traders are near the most optimistic since May 2015 and short interest tracked by IHS Markit has dropped to the lowest in two years.
Skeptics say a key risk for the world's largest gambling hub is oversupply. Macau casinos have been building gambling capacity and tourist attractions at a record pace, according to Bloomberg Intelligence. Planned gaming tables through 2018 could add about 40 percent to the market's 2014 total, while the number of hotel rooms may jump by 80 percent, BI estimates show.
Read more: BI's 2017 global gaming outlook
"Some of the properties definitely have a lot of overlap," said Paul Chan, head of multi-asset and Hong Kong pensions at Invesco Ltd., which oversees about $813 billion worldwide.
Whether demand will increase enough to support casinos' share prices remains to be seen, but the latest industry figures don't bode well for bulls. Gross gaming receipts climbed just 3.1 percent in January, missing the median analyst estimate of 8.5 percent.
— With assistance by Livia Yap, K Oanh Ha, and Daniela Wei
Before it's here, it's on the Bloomberg Terminal.
LEARN MORE