U.K. Can Benefit From Right EU Exit Deal, Brexit Group Says
By
Economists for Free Trade say Brexit could give 6% GDP boost

Tariffs, lack of cooperation with EU is the worst scenario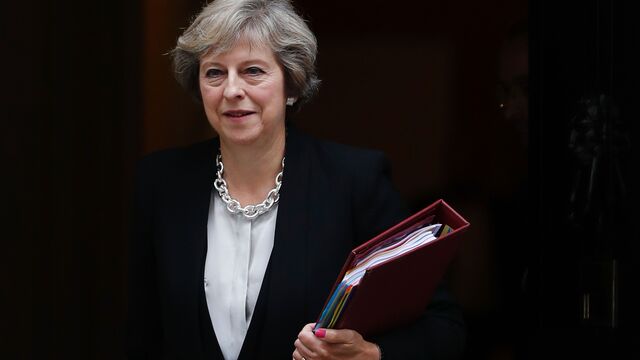 The U.K. can avoid the disaster some predict for its economy with the right Brexit deal.
That's according to Economists for Free Trade -- formerly known as the campaign group Economists for Brexit. Rejecting pessimistic forecasts that see the economy suffering in the long run, it estimates that leaving the European Union and establishing tariff-free trade with the bloc, alongside the rest of the world, could boost British growth by up to 6 percent.
Once the U.K. leaves the EU and becomes subject to World Trade Organisation rules, it can prosper if it makes the right decisions, the group said at an event in London on Thursday. If Prime Minister Theresa May removed all import tariffs, the economy would get a 4 percent boost, and a further 2 percent could come from removing regulation from the single market. Under this scenario, it also sees a 7 percent boost to government revenue.
The group -- which includes Conservative lawmaker Jacob Rees-Mogg and former British Chambers of Commerce boss John Longworth among its advisers -- is renewing its push to promote the benefits of Brexit as the timing of the formal exit process nears. In its latest report, however, it also cautions that the path to success is "not straightforward."
"There are great gains to be made from eliminating the protection that the EU exerts over food, through the common agricultural policy and the associated tariffs, and also manufacturing," said Patrick Minford, a professor at Cardiff Business School and a member of the group. Unilaterally abolishing tariffs would be "simpler than going the torturous route of negotiations," and give a "huge political dividend for delivering quickly what the people wanted," he said.
While the EFT sees that as the optimal outcome, the U.K. may instead negotiate free trade agreements with the bloc and other countries. In that case, maintaining tariffs against an "un-cooperative EU" could cost the U.K. up to 8 percent of GDP, according to its analysis.
May has said she'll start formal exit negotiations with European leaders by the end of next month. She intends to trigger the withdrawal as close as possible to the EU summit taking place on March 9 and March 10, according to two government officials involved in Brexit planning.
Before it's here, it's on the Bloomberg Terminal.
LEARN MORE