Le Pen Stirs Dormant Re-Denomination Risk for Europe's Investors
by and
French candidate has pledged to change nation's currency

CDS, CACs in focus as debt crisis concerns resurface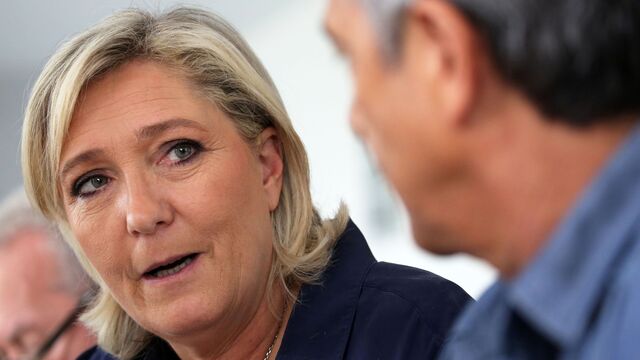 The rise of populist parties in France and Italy is awakening an old fear in Europe: that public debt may be forcibly switched back into former national currencies if countries exit the monetary union.
The concern is reminiscent of the depths of the euro region debt crisis, when doubts about Greece's ability to meet its obligations sent investors scrambling to offload exposure -- and dust off their legal textbooks. In focus once again are the triggers for pay outs on credit default swaps, the insurance-like derivatives that protect against government non-payment, as well as language inserted into bond documents meant to smooth sovereign debt restructurings.
"We are not used to thinking about contractual clauses like this -- this is something we tend to see in developing countries," said David Tan, the head of rates at JPMorgan Asset Management, which oversees more than $1.7 trillion. And yet "the risk of re-denomination has risen," he said. 
Italy and France are the euro zone's two biggest debtors, creating a potential twin threat that would dwarf anything presented by Greece. While the odds remain stacked against National Front leader Marine Le Pen winning the French presidential election and leading the country out of the euro area, and the Five Star Movement is a long way from delivering a referendum on Italian membership of the bloc, "markets have to price the risk," Citigroup Inc. said in a note last week.

The nations' bonds have started to show some strain. The yield difference between French and German 10-year bonds reached the highest since 2012 last week, while similar gauge for Italy widened to the most since 2014. The combined debt load of France and Spain is more than 10 times that of Greece, according to data compiled by Bloomberg.
For more on bond investors' views on re-denomination, click here.
Still, "the risk of Italy or France exiting the euro area is not even remotely priced in," said Frederik Ducrozet, a euro-zone economist at Pictet Wealth Management in Geneva. "If it turned into a real possibility, the re-pricing would likely be massive and the threat of capital flight would indeed increase significantly with very negative consequences for the banking sector in particular."
Gauging the impact of such a black swan event is complicated, however. While some analysts say ratings companies would consider changing the underlying currency of debt as a default, not everyone agrees. Under International Swaps and Derivatives Association rules for CDS tied to debt from G-7 countries, re-denomination won't trigger pay outs unless accompanied by investor losses, Citigroup analysts including Hans Lorenzen said.
Bond Protections
Meanwhile, since 2013 the EU has required certain protections be embedded into government debt. These include so-called collective action clauses, which mean a super-majority of investors is needed to approve changes to the currency of the underlying bonds.
But it's doubtful that domestic-law bonds embedded with CACs offer investors protection, according to Simon Gleeson, a partner at Clifford Chance in London. "It's pretty simple: the governing law of a bond trumps any provision contained in that bond," he said.
The lack of certainty has already been enough to persuade some money managers to reduce their European holdings, despite the seemingly low chance of a re-denomination event. Deutsche Asset Management cut the proportion of its multi-asset funds invested in the region to the lowest on record.
"While, on balance, we think it's a very low probability event, you can never say never these days," said JPMorgan's Tan.
Before it's here, it's on the Bloomberg Terminal.
LEARN MORE