Koch-Backed Group Squares Off Against Paul Ryan on Import Tax
By
Americans For Prosperity officer says plan 'dead on arrival'

Mobilization will include phone calls and home office visits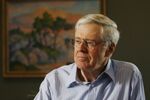 A conservative advocacy group founded by billionaire brothers Charles and David Koch is directly confronting a traditional ally -- House Speaker Paul Ryan -- as it mobilizes a new national effort to derail a proposed tax on U.S. companies' domestic sales and imports.
Americans For Prosperity, which advocates lower taxes and smaller government, plans to focus its efforts most heavily on about 15 states where it believes it can best rally opposition and put members of Congress on notice, the group's leadership said Thursday.
"There are moments where you kind of have a disagreement on issues and you shrug your shoulders and you move on," AFP President Tim Phillips told reporters on a conference call. "But this border-adjustment tax is no such issue."
The Koch brothers have a long history of supporting Republicans. But the border adjustments -- part of a tax overhaul agenda backed by Ryan and House Ways and Means Committee Chairman Kevin Brady -- is driving a wedge between the conservative donors and some of their staunchest political allies. AFP says the tax would mean higher costs for retailers and other industries that rely on imports -- costs that would be passed along to consumers.
Ryan, referring to the border-adjusted tax during a press conference earlier Thursday, said, "I would say to those who are concerned about this, I think they under-appreciate how much better our tax system will be with this kind of provision."
Tax Reform
Ryan's plan calls for replacing the existing corporate income tax of 35 percent with a 20 percent tax on companies' domestic sales and imports. Exports would be excluded from taxation. The plan, which has been estimated to raise more than $1 trillion over a decade, represents a centerpiece of the House GOP plan to overhaul business and individual taxes. Without its revenue contribution, meaningful rate cuts would become harder to achieve.
The plan would make U.S. companies more competitive globally, said Ryan, noting that many other nations already have border-adjustments in their tax codes. That helps their exports avoid double taxation, while U.S. exports don't, he said.
"Do you know why tax reform is going to happen? Because it has to happen," Ryan said. "America has the worst tax code in the industrialized world -- it is killing economic growth, it is driving companies to become foreign companies."
AFP's plans for working against Ryan's proposed tax call for getting supporters to make phone calls and visit the home offices of members of Congress, with extra attention given to members of the House Ways and Means Committee and the Senate Finance Committee. A digital ad is being rolled out and Phillips said the group is "considering other moves as well."
'Picks Winners'
Brent Gardner, AFP's chief government affairs officer, said the effort would most heavily focus on 21 members of the Senate in 15 states and about the same number of House members. About 100 office visits across the country are scheduled for next week.
Calling the proposal "a consumer tax" that "picks winners and losers," Phillips said the proposal would hurt those who can least afford a tax increase.
"It's a $1.2 trillion tax over 10 years that's going to be particularly difficult for folks who can least afford it," he said. "We oppose it on philosophical grounds. We oppose it because of the devastating impact it's going to have on so many Americans."
Gardner suggested Ryan and the House leadership are pushing a notion that could carry political costs.
"Based on the number of folks who have already come out in the Senate, this package is probably dead on arrival," he said. House leaders should consider whether they want to put their members in the position of having to defend a vote that "does not have a future when it crosses over to the Senate."
Koch Industries, a Wichita, Kansas-based conglomerate with interests ranging from oil and ranching to farming and the manufacturing of electrical components, would benefit from the change because it produces many products domestically, according to a statement earlier this year that was released by Koch's lobbying arm, Koch Companies Public Sector LLC. The statement indicated the company is supportive of a comprehensive overhaul of the tax system.
AFP's plans were shared a day after retail executives met with President Donald Trump to voice opposition to a border-tax levy.
'Too Complicated'
AFP says it has more than 3.2 million activists in its network, which includes 35 state chapters, and financial support from more than 100,000 Americans in all 50 states.
Individuals and political action committees associated with Koch Industries Inc. rank as the fourth-largest contributor to Ryan over his career, according to the non-partisan Center for Responsive Politics.
The battle over border adjustments has divided corporate America with retailers and other net importers on one side and exporters on the other.
Supporters say the 20 percent levy would encourage domestic production, while opponents complain it would force companies to pass the increases to consumers -- potentially boosting prices for everything from food and clothing to gasoline and auto parts.
Trump had initially called the border tax "too complicated," before aides have more recently said he was warming to the idea. It's still unclear whether he will endorse a border levy in his tax plan.
During Wednesday's meeting with chief executive officers from chains such as Target Corp. and Gap Inc., border adjustment dominated the conversation, with several CEOs speaking out against it, according to two people familiar with the meeting who asked not to be named because the conversation was private.
The president didn't say whether he supported the measure, but made it clear it was part of the House blueprint and his administration would be releasing its own plan in the coming weeks, the people said.
— With assistance by Matthew Townsend, and Anna Edgerton
Before it's here, it's on the Bloomberg Terminal.
LEARN MORE