Here's How UBS Wealth Sees the Aramco IPO Changing Middle East Markets
By
IPO could bring transparency to local market, Bolliger says

Liquidity crucial when deciding where to purchase Aramco stock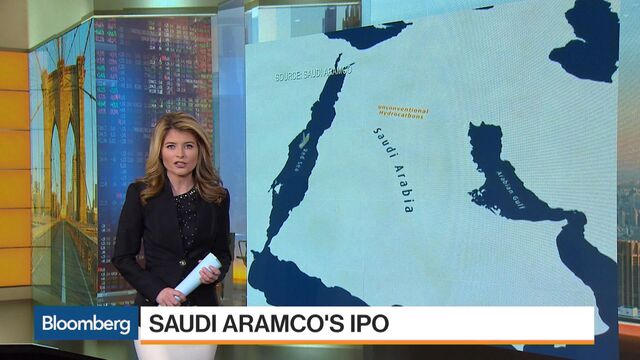 The initial public offering of Saudi Arabian Oil Co., set to be the world's most valuable, has the potential to bring far-reaching changes to the Saudi equity market and alter investor perceptions of the region, says Michael Bolliger, head of emerging-market asset allocation at UBS Wealth Management.
The share sale will turn unprecedented attention on the Saudi market, says Zurich-based Bolliger, who helps oversee the investment strategy for $2.1 trillion in assets.
To learn more about Saudi Aramco, click here
Below is a Q&A with Bolliger about the implications of Aramco's share sale, which is estimated to raise as much as $100 billion, assuming 5 percent of the company is offered to investors.
Q: Will the IPO change your view of Saudi Arabia?
A: Aramco is the largest company in the world. Its partial privatization will likely draw much attention to Saudi Arabia. And, as a likely part of a broader privatization program of state-owned companies, it reinforces the message that the kingdom's strategy is to develop a domestic capital market and gradually open it up to international investors.
The IPO would increase the depth of the domestic market. We would expect transparency to also improve as this is a prerequisite to further liberalization. Aramco is preparing to publish its accounts for the first time, in an industry-friendly format, a big step.
Aramco is also said to be planning to issue a first Sukuk ahead of the company's partial IPO. This could be followed by dollar-denominated bonds. We also expect Saudi companies to start issuing Eurobonds after the $17.5 billion debut bond issued by the kingdom last year.
Q: Would you buy the shares? In Saudi Arabia, or abroad?
A: Valuations will determine if we recommend buying the stock or not. We see Aramco as a company with large business potential focusing on its long-term vision of becoming the world's leading energy and chemical enterprise. However, we would require adequate compensation for industry and other risk factors.
The stock could be bought either in Saudi Arabia or in a foreign market. In either case though, market participants would likely look at liquidity as an important criterion, along with clearly defined rules and regulations for the local stock exchange.
Q: What impact will the IPO have on markets in the region?
A: There is a clear potential for a meaningful impact. Transparency is set to gradually improve, markets will gradually open up, better scrutiny should improve governance standards and long-term financial sustainability of Saudi companies. Other privatizations will follow, likely offering more opportunities for investors.
Saudi Arabia might decide to remove obstacles for foreign investors. For example, Saudi authorities have announced several measures to increase the depth of domestic markets. Since January, qualified foreign investors are allowed to invest in IPOs; the value of global assets under management required to qualify as a QFI was reduced from 18.75 billion riyals, around $5 billion, to 3.75 billion riyals; and the maximum share that a QFI can take in a company has been raised to 10 percent from 5 percent. Other Gulf Cooperation Cooperation Council countries could follow suit if the Saudi experience is successful.
Q: What level of disclosure do you expect?
A: Investors would certainly value transparency, including disclosing data more or less in line with international standards, including oil reserves. Investors' concerns likely include energy price volatility, lack of disclosure, geopolitical uncertainties and setbacks in reform momentum.