How the Kremlin's Disinformation Machine Is Targeting Europe
Russia's state-run media battle the West for global influence.
By , , and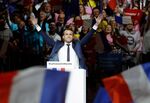 As French centrist presidential candidate Emmanuel Macron began surging in polls recently, his campaign was hit by a report calling him a "U.S. agent" and hinting that he's a homosexual who's backed by a "very wealthy gay lobby." The source? Sputnik, a news agency controlled by the Kremlin.
In a throwback to Soviet-era propaganda efforts, Russia's sprawling state-run media empire is buzzing ahead of elections this year in the Netherlands, France, and Germany—putting Europe's political establishment on alert after intelligence agencies accused Russia of meddling in the U.S. presidential race. Sputnik and RT, a state-owned global TV network, "make it their daily business to put out fake news," Richard Ferrand, secretary-general of Macron's En Marche! party, told France 2 television on Feb. 13.
In Germany, the Kremlin's global media operation is giving lavish coverage to populist far-right and leftist parties critical of Chancellor Angela Merkel's open-door immigration policy. In France, Macron's sudden rise has undercut the candidacy of conservative François Fillon, a former prime minister who's called for warmer relations with the Kremlin and an end to sanctions on Russia. Stories by Sputnik and RT have been largely sympathetic to Fillon, who's been hurt by allegations that he gave his wife and children no-show government-paid jobs, and to Marine Le Pen of the far-right National Front, stressing her pro-Russian and anti-European views. Both outlets have been harder on the pro-European Macron, suggesting that the former economy minister used his position to help foreign banks and companies.
Sputnik, a reincarnation of the Soviet-era Novosti Press Agency, operates in dozens of languages. RT, a multilingual network that styles itself as Russia's answer to CNN or Al Jazeera, is run by an appointee of President Vladimir Putin.
With 22 bureaus around the world and a staff of 1,000, RT has seen its budget jump from $30 million in 2005 to about $320 million this year, even as most other government spending has been slashed in a recession. Its current budget includes $20 million to start a French-language channel, expected to begin operating later this year, adding to its English, Spanish, German, and Arabic services.
"We see a country that, in weaponizing misinformation, has created what we might see now as the post-truth age," U.K. Defense Minister Michael Fallon warned in a Feb. 2 speech. The West must "do more to tackle the false reality."
Russia dismisses the criticism as hypocrisy. Putin, who says RT's mission is to "break the Anglo-Saxon monopoly" on global news, said on Feb. 9 that leading European media had turned into "a weapon for manipulating opinion." Kremlin spokesman Dmitry Peskov on Feb. 14 said the attention the Russian outlets are getting is testament to their success and urged foreign media to "avoid fake news when we talk about RT and Sputnik." Both RT and Sputnik denied spreading any false stories about the French election.
The Kremlin's information tools have already made their mark in Italy and the Netherlands. A few weeks before a December referendum that toppled Italian Prime Minister Matteo Renzi, RT broadcast live footage on Facebook of what it said were anti-Renzi protesters massing in Rome, which attracted 1.5 million viewers and was widely shared on social media, according to Italian daily La Stampa. In fact, they were Renzi supporters. According to RT, a "production error" was responsible and the title of the live feed was corrected within an hour. "There was never any intent whatsoever to mislead our audience," the channel said by e-mail.
In the Netherlands, Sputnik last year posted a video allegedly made by Ukrainian extremists threatening to attack Dutch people who voted "no" on closer ties between Ukraine and the EU. Ukrainian authorities and independent analysts say the video was faked.
RT's impact may be limited. The channel is "very polemical, ideological, and anti-Western, especially anti-American," says Ellen Mickiewicz, a Duke University political science professor who's studied RT. She says only about 1 percent of RT's YouTube videos—which the company says have gotten more than 4 billion views—are political and that its TV audience is tiny. In Britain in January, RT had 0.05 percent of viewers, fewer than the Welsh-language Channel 4. So the hundreds of millions of dollars spent on RT can seem like "wasted money," Mickiewicz says.
Ofcom, the British media regulator, has found RT in breach of impartiality standards 10 times—more than any other broadcaster—since the channel started operating in the country in 2005. Most incidents took place in the past two years, with violations involving stories on NATO, Ukraine, and Turkey, and one reporting that the BBC had faked news of chemical attacks in Syria.
Germany in 2015 got a taste of how quickly Russian disinformation can spread. In January, Russian state broadcaster Channel One reported the alleged gang rape of a 13-year-old ethnic Russian girl by immigrants in Germany. The story—recycled by RT and Sputnik even after German police established that no rape took place—brought tens of thousands of Russian speakers living in Germany into the streets to protest Merkel's immigration policy. RT says it didn't promote the story, though it covered the protests and the political situation around the case, including the police statement ruling out rape.
RT broadcasts have reached up to 1 million views on social media, according to Stefan Meister, an analyst at the German Council on Foreign Relations in Berlin. "Of course," he says, "those posts can reverberate within the echo chambers of anti-EU, anti-NATO, and anti-U.S. groups."
The bottom line: The Kremlin-run RT television network has seen its annual budget jump from $30 million in 2005 to $320 million this year.
(
Updated with comments from RT in eighth and 12th paragraphs.
)
Before it's here, it's on the Bloomberg Terminal.
LEARN MORE