Trump May Be the Reform Catalyst China Needs: Goldman Forecaster
Bloomberg News
Song Yu sees risk of overheating even as growth slows to 6.5%

Donald Trump may catalyze China economic reforms, Song says
Wasteful investment and an absence of breakthrough economic reforms are bolstering arguments made by China bears, says Song Yu, chief China economist at Beijing Gao Hua Securities Co. The tonic? Donald Trump.
"Will China collapse? No, but the element of truth in their concern is rising," says Song, the most accurate forecaster of the economy for three straight years, according to Bloomberg Rankings.
That's where the U.S. president comes in. If he takes action such as imposing punitive tariffs that dim China's economic outlook, it will be an additional hit to the nation's "fragile equilibrium" that may spur a quickening in the pace of reforms, says Song, whose firm is Goldman Sachs Group Inc.'s joint-venture partner in the mainland.
"China will need to respond to that," Song said. "People always say China can only do reforms when it's forced to do them. It has the advantage in terms of the political system because if they want to do it, they can get it done more easily than many other countries."
Over Investment
Underscoring the need to curb over-investment, Song cites a coastal third- to fourth-tier city he recently visited: it's building a subway system even though traffic remains light. And in parts of the smokestack northeast where growth has plunged, infrastructure investment is being used to support the economy even as people migrate away from those places, he said.
"China does increasingly have the need to be more careful with the way it is stimulating the economy and building infrastructure," said Song, who's based in Beijing. "It's not just close your eyes and do whatever is in the pipeline."
The risks were on display this week, when data showed aggregate financing for January surged to a record 3.74 trillion yuan ($545 billion) -- more than the equivalent of Swedish or Polish annual economic output.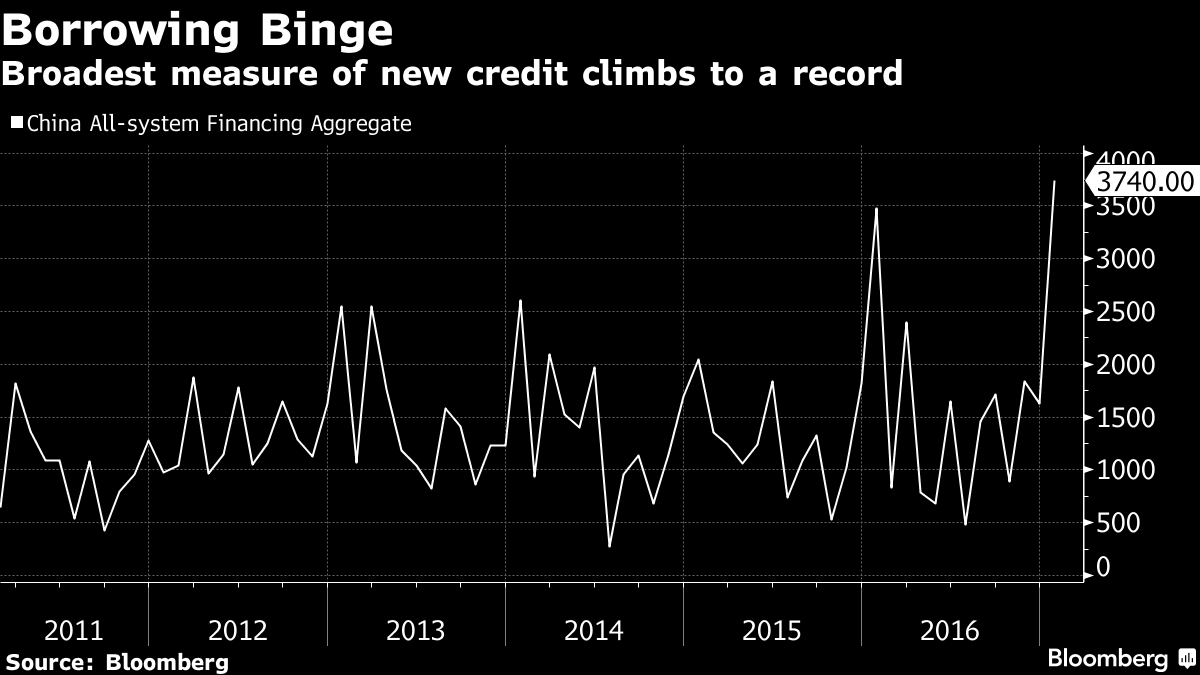 Those risks exist even though Song sees growth decelerating to 6.5 percent this year. Companies are eager to borrow again and policy makers now need to "try really hard" to control the volume of lending, he said. As a result, Song sees monetary policy in tightening mode for most of this year and believes markets are underestimating the shift.
"There ought not be any doubt about the change in the monetary policy stance," he said. "A lot of people still treat it as a water pistol tightening, as small, as no big deal. It's a combination of water pistol, and if not quite bazooka tightening then M16-type tightening. It's pretty significant."

This shift is fortified by an apparent attempt by policy makers to begin de-emphasizing the importance of growth targets, Song said. China's leaders decided that the buildup of debt used to fuel heavy industries from steel to cement last year generated growth at too great a cost, according to a person familiar with the situation.
"That's one very important change that's happened over the past three or four months that deserves more attention," Song said. "That would be a subtle but important positive change because it will alleviate the risks of overheating and a lot of problems in terms of debt."
The really big issue is whether China can quicken the pace of economic reforms, Song said. While not a burning issue, inaction undermines the economy's long-term prospects, he said.
"I want to see the unfinished reforms of Premier Zhu Rongji be carried out," he said. "He was opening up the economy, he was reducing the size and power of the bureaucracy, he was market-izing many sectors and dismantling SOEs. He really was doing the right things."
— With assistance by Kevin Hamlin
Before it's here, it's on the Bloomberg Terminal.
LEARN MORE