G-20 Responds to U.S. Warning to NATO and Shift on Israel
By , , and
France slams Trump for 'very confused and worrying' comments

Argentina's Malcorra: 'Don't know what is behind the comment'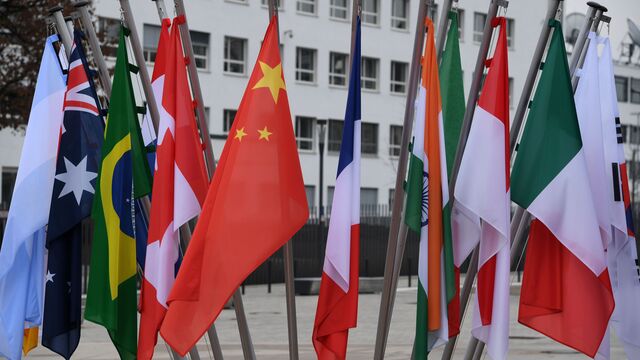 If the Europeans and the rest of the world were expecting assurances, what they got was an ultimatum on NATO and the U.S. abandoning a long-held position on Israel that has the potential to roil the Middle East.
At a NATO gathering in Brussels, Defense Secretary James Mattis warned that the Trump administration is prepared to scale back its pledge to defend Europe unless ally nations increase military spending, and fast. In Washington, President Donald Trump departed from more than a decade of U.S. foreign policy by suggesting peace between Israelis and Palestinians could also be achieved with "one state" rather than a two-state solution.
At a Group of 20 gathering of foreign ministers in Bonn, officials reacted with surprise and dismay at Trump's latest policy switch as Secretary of State Rex Tillerson's debut on the international stage was botched with an awkward encounter with Russia's Sergei Lavrov.
Argentine Foreign Minister Susana Malcorra signaled she was caught off guard by Trump's pronouncement on the Middle East peace process. "We don't know what is behind the comment," she said.
"It's been policy for so long, it's hard to see how this evolves," Malcorra, a veteran of the United Nations who ran for secretary general, said in an interview in Bonn, the former West German capital. "It'll be interesting. It's important to be careful and not to jump to conclusions."
Read more: An explainer on the rise and fall of the two-state idea for Israel
French Foreign Minister Jean-Marc Ayrault was less diplomatic. He told reporters on the sidelines that he found the new U.S. position "very confused and worrying," according to comments reported by AFP.
With Mattis already making waves as the enforcer of Trump's policy, Tillerson has had an uneven start to his tenure as the top U.S. diplomat.
Two weeks after winning confirmation, Tillerson has yet to lay out his most urgent foreign policy priorities and hasn't had a news conference. In Bonn, a much-watched first encounter with his Russian counterpart garnered the wrong kind of attention when his aides quickly ushered reporters from the room as he was delivering some routine opening remarks.
Before it's here, it's on the Bloomberg Terminal.
LEARN MORE