Prosecutors Stick to Fillon Probe After Evidence-Gathering
By
Eliane Houlette says there's no reason to drop the case

Results of police's preliminary probe handed to prosecutors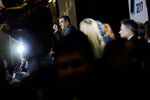 French presidential candidate Francois Fillon failed to shake off a probe into the employment of his wife as a parliamentary assistant as prosecutors said evidence gathered by police means the case should continue.
Eliane Houlette, France's financial prosecutor, said that on Feb. 15 her office received the first elements gleaned by police officials in their probe into suspected embezzlement.
"It is my duty to say that the numerous elements already gathered don't allow us to consider, at this stage, dropping the case," Houlette said Thursday in a statement. "The investigation will continue."
The probe was started after weekly newspaper Le Canard Enchaine said Fillon's wife Penelope earned hundreds of thousands of euros as a parliamentary assistant without actually working in that capacity. Fillon has been trying to quell dissent within his own party since the scandal rocked his campaign, and his lawyer has called the probe to be dropped.
Francois Fillon's lawyer, Antonin Levy, and Pierre Cornut-Gentille, who represents Fillon's wife, criticized the way the financial prosecutor characterized the status of the probe.
Houlette's "statement fails to note that after three weeks of investigation and many hearings there aren't sufficient elements to request a formal probe," the lawyers said in an e-mailed release. Both lawyers reiterated their arguments that the probe violates the separation of powers and isn't part of financial prosecutors' competence.
Fillon told French newspaper Le Figaro that the financial prosecutor's comment was "nothing new."
"The announcement is just a communication trick to feed the media saga," Fillon said. "It won't rattle my determination."
Before it's here, it's on the Bloomberg Terminal.
LEARN MORE