Dlamini-Zuma, Ramaphosa Seen as Sole Contenders to Lead ANC
Mike Cohen and Paul Vecchiatto
Analysts split over early frontrunner in succession race

Ruling party to elect new leaders at conference in December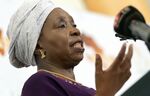 The election of the next leader of South Africa's ruling African National Congress looks set to be a two-horse race.

Nkosazana Dlamini-Zuma, the former chairwoman of the African Union Commission, has an early edge in the battle to take over the helm of the party from her ex-husband President Jacob Zuma at its December national conference, according to 11 of 26 analysts surveyed by Bloomberg on Feb. 13 and 14. Ten put Deputy President Cyril Ramaphosa ahead, and five said the contest was too close to call or it was too early to select a frontrunner. The survey sought the views of politics professors and lecturers from 10 South African universities, country risk advisers and research-group analysts.
"I doubt if there will be a third horse," said Tinyiko Maluleke, a political analyst at the University of Pretoria, who added it was too soon to predict who would win. While ANC tradition should dictate that Ramaphosa succeeds Zuma, there is a strong move within the 105-year-old party to appoint its first woman leader, he said.

With the ANC continuing to dominate South African politics almost 23 years after it came to power in the nation's first multiracial elections, the party's next leader will probably replace Zuma, 74, as the nation's president when his second and final term ends in 2019. Dlamini-Zuma has the backing of the ANC's women's league, while the Congress of South African Trade Unions, the country's largest labor group and a close ANC ally, supports Ramaphosa.
No one has formally declared that they are running for the position, in line with ANC policy. Local media has reported that Baleka Mbete, the speaker of Parliament, Zweli Mkhize, the ANC's treasurer-general and Human Settlements Minister Lindiwe Sisulu may also be among the possible contenders. ANC Secretary-General Gwede Mantashe said in November that six people were vying to succeed Zuma, without identifying them.
Dlamini-Zuma, 68, qualified as a medical doctor, and served as minister of health, foreign affairs and home affairs before being elected to head the AU Commission in 2012.
Ramaphosa, 64, is a lawyer who co-founded the National Union of Mineworkers, helped negotiate a peaceful end to apartheid and led the drafting of South Africa's first democratic constitution. He lost out to Thabo Mbeki in the contest to succeed Nelson Mandela as president in 1999 and went into business, amassing a fortune before returning to full-time politics in 2012 when he became ANC deputy president.
To read more on Dlamini-Zuma please click here.
To read more on Ramaphosa please click here.
It's even more tricky to predict who the ANC will choose as its next deputy leader, according to the survey. Five analysts identified Mkhize as the frontrunner for the deputy post, three picked David Mabuza, the premier of the eastern Mpumalanga province, and two named Ace Magashule, the premier of the central Free State province. The rest said they didn't know or declined to say who they thought was leading.
— With assistance by Rene Vollgraaff, and Sam Mkokeli
Before it's here, it's on the Bloomberg Terminal.
LEARN MORE