markets
Catalyst Capital Says Don't Blame Us for Stock Market Swings
By
Volatility fund, down 13.5% in 2016, exited losing call trades

Short gamma runs into trouble as S&P 500 rises seven days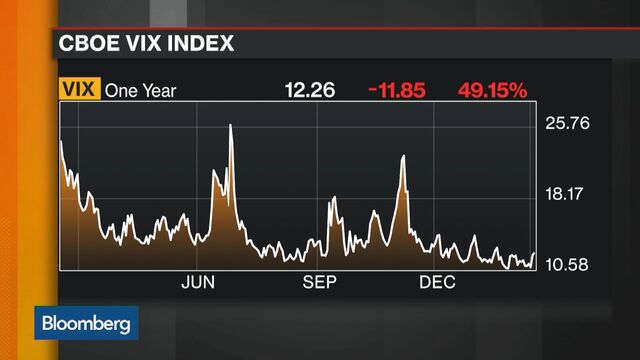 Catalyst Capital Advisors LLC, the $5.8 billion fund firm whose travails briefly transfixed Wall Street this week, says it's not the reason for recent swings in U.S. stocks.
The Huntington, New York-based multi-strategy investment firm exited short positions in S&P 500 calls as markets turned against them over the last few weeks, but the trading was too little to move the market, according to Jerry Szilagyi, chief executive officer and co-founder of Catalyst. Desks have been rife with speculation that forced buying by Catalyst contributed to the market's buoyancy in recent sessions.
"Our exposure was greatly exaggerated, and our impact on the market was greatly exaggerated," said Szilagyi by phone. "Comments that we were forced to short cover are not correct. We haven't been forced to do anything."
Catalyst Hedged Futures Strategy Fund, the open-ended fund involved in the call trade, has seen its net asset value tumble for seven straight days -- a stretch that coincides with the longest streak of gains in the S&P 500 since September 2013. The $3.4 billion portfolio, founded in 2006 by a former supply-chain management specialist named Ed Walczak and brought under the Catalyst umbrella in 2013, is down 13.5 percent in 2017 and 18.5 percent on a total return basis from a high in September.
Market Impact
Theories abounded Wednesday and Thursday that forced covering by Catalyst was doing everything from boosting stocks to pushing up the Chicago Board Options Exchange Volatility Index, also known as the VIX. Some of the speculation focused on unusual market happenings, like when the VIX jumped as stocks rallied yesterday, a relatively rare concerted move.
"There may have been some market impact from our trading earlier this week, but it's certainly not the majority of the market impact, by any stretch," said Szilagyi. "Probably Donald Trump's tweets have had a bigger impact than our trading. "
More than $500 billion has been added to U.S. equity prices as a string of better-than-expected economic reports, from retail sales to inflation, pushed the S&P 500 to successive records. An MSCI gauge of global equities vaulted to a high Wednesday as the "Trump trade" advance approached 20 percent in the Dow Jones Industrial Average from its election night low.
Worst Environment
Catalyst, founded in 2006, manages 25 different funds that encompass a range of strategies, from traditional long-only equity funds to liquid alternatives. As for the Catalyst Hedged Futures Strategy, it's faced unfavorable market conditions as volatility remains subdued even in the face of geopolitical uncertainty, said Szilagyi.
"We've communicated with our shareholders over the years that this is the type of environment that's the worst for the fund," said Szilagyi. "We've had losses before and when this happens, we've covered our positions, and when market conditions are more favorable we'll get back in."
Though drawdowns recently have been more than in the past, Szilagyi maintains that otherwise everything is business as usual. He added that a normal risk management program kicking in led them to cover positions.
"It's just people looking to sensationalize things and make headlines," he said. "It's nothing unusual from our standpoint except the attention it's getting."
(
Updates fourth paragraph to reflect dividend adjusted return.
)
Before it's here, it's on the Bloomberg Terminal.
LEARN MORE