Carney's First BOE Hire Steps Into Prime Spot to Replace Him
By
Ex-Santander banker has largest remit of any deputy governor

New role may put Hogg in running to be first female BOE head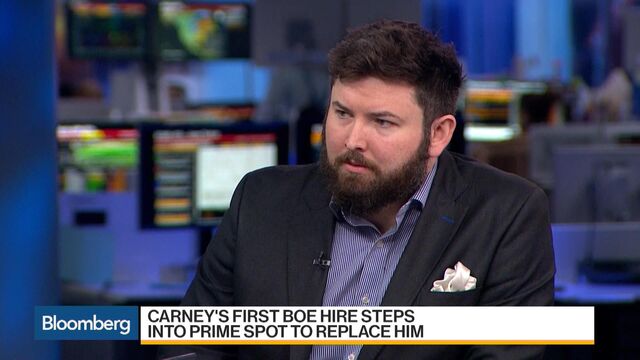 Mark Carney hired Charlotte Hogg to shake things up at the Bank of England. Now she may be a candidate to succeed him as governor.
Hogg will become deputy governor for markets and banking starting next month as well as keeping her role as chief operating officer. That expanded remit, which includes voting on interest rates and representing the BOE overseas, gives the scion of a British political dynasty the widest powers of any of Carney's deputies two years before he plans to depart.

Since starting the same day as Carney in 2013, the black-leather-jacket wearing 46-year-old has spearheaded efforts to modernize the state-owned institution that still greets visitors with doormen wearing pink tailcoats and top hats. Hogg's private-sector experience at McKinsey & Co. and Morgan Stanley may come in handy as she orchestrates the BOE's moves to keep financial markets running smoothly during Brexit.
"It's an absolutely huge mandate," said Chris Hare, an economist at Investec Securities in London and a former BOE official. "If Charlotte Hogg really proves herself under this brief, then it's not a million miles from a step up to governor level."
New Role
In Carney's first-announced appointment almost four years ago, Hogg became the BOE's most senior woman in a newly created COO role to oversee the bank's day-to-day operations. Previously head of retail distribution and intermediaries at Banco Santander SA's U.K. business, she was charged with revamping the three-century-old institution.
It hasn't been all plain sailing. The BOE's Court of Directors called her ambitions for change "daunting." She said job cuts were "tough" decisions. She irked staff with plans to close the bank's in-house library and digitize the content, an experience she said she learned from in a 2015 interview.
With her new authority, Hogg will be one of just three officials on all of the BOE's key committees for monetary policy, regulation and financial stability. She retains operational control over the institution and will be one of two deputies who represent the organization internationally.
The Oxford and Harvard graduate comes from a family steeped in British politics. Her father served in the governments of Margaret Thatcher and John Major, her mother was an adviser to Major, and her grandfather and great-grandfather were both lord chancellors.
Glass Ceiling
Hours after her appointment was announced last week, Carney noted in a speech that he was the 120th in a "very long line of male governors." If the U.K. government wants to break that glass ceiling when Carney departs in 2019, Hogg would stand out as a candidate.
"Hogg's reach is definitely very broad in terms of her responsibilities," said Sam Hill, an economist at RBC Capital Economics in London. "If she impresses people in the course of the next couple of years or so, she would have every chance of thinking of herself as a serious contender for the top job."
To be sure, Carney was appointed from outside the bank and his successor may be as well. Hogg may not want to go for the top job; her predecessor as the head of markets, Minouche Shafik, is leaving the demanding role earlier than her term required. 
In addition, Hogg hasn't yet voted on the bank's interest rates and quantitative-easing program. Economists have little to go on when trying to forecast her views on the Monetary Policy Committee.
"She's probably not going to want to go make her mark by dissenting at her first meeting," said Alan Clarke, an economist at Scotiabank in London. "There may be a tendency to side with whatever Carney wants to do and stick with the pack."
More Changes
The start of her five-year term as deputy governor on March 1 heralds a period of flux for the MPC, with Chief Economist Andy Haldane's three-year term up for renewal at the end of May, and Kristin Forbes already intending to leave at the end of June.
Brexit, set to shake up U.K. banks as well as drag on growth, will keep the BOE in the spotlight. While the economy has remained strong since the June referendum to leave the European Union, the pound's drop has fueled inflation and Carney has said the consequences have barely begun.
"Hogg has got a very good broad-ranging CV, lots of contacts in the financial sector, and a sense of credibility internally and externally," Investec's Hare said. "That sets things up quite nicely for her dealing with the massive Brexit challenges."