Brexit Bulletin: Known Unknowns
Many questions still unanswered as May's self-imposed deadline approaches.
By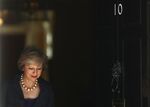 Sign up to receive the Brexit Bulletin in your inbox, and follow @Brexit on Twitter.
A 6,000 word speech, a 75-page report and a 137-word parliamentary bill have still not sated the thirst for insights into Prime Minister Theresa May's plans and ambitions for Brexit.
Almost one month since May's Lancaster House speech and as her March 31 deadline for triggering formal divorce talks nears, Bloomberg's Tim Ross has a crack at identifying what May still isn't telling us.
Among the questions he says still need answering are: just when will May start negotiations, how will the talks be structured, what kind of trade deal does she want, and will Britons suffer when they try to go to the Continent on holiday?
To be fair to May, she might not know the answers herself, given European Union officials have yet to reveal what kind of bargain they will drive for. 
In a separate study, Richard Rose of the University of Strathclyde ranked the likelihood of May achieving her 12 Brexit goals. He sees as readily achievable her aims to cooperate in the fight against terrorism and to secure rights for U.K. citizens elsewhere. But he regards her target of a smooth, orderly exit with a deal sewn up within two years as almost impossible.
What follows Article 50?
Once Article 50 of the Lisbon Treaty is triggered, eyes will switch to the EU for its response.
The first task for governments will be handing the European Commission its formal mandate for the talks.
In a report to clients on Tuesday, Mujtaba Rahman of the Eurasia Group said that will take between four and six weeks to resolve, and that capitals may want to be less tough on the British than the Commission.
What the Council decides will "signal the willingness of the EU27 — or not — to bridge the chasm between Britain's desire for a free trade agreement that, as far as possible, mimics single market membership, while holding to the EU's red lines on cherry-picking," said Rahman.

As for when decisions are made, Andrew Duff, a visiting fellow at the European Policy Centre, reckoned April 20-21 would mark the best date for the Council to meet, given the rest of the month is tied up with Easter, French elections and a regional holiday.
Don't Forget the Assets
Much has been made of what the U.K. may owe the EU, but Brussels think tank Bruegel has studied what claims Britain may have on the bloc.
In a report that suggested an offset to the U.K.'s liabilities, Bruegel estimated the EU had 153.7 billion euros of assets at the end of 2015, of which 41 billion euros could be considered accumulated wealth that should be shared with the U.K.
That amount included 21.7 billion euros and €8.7 billion of property.
"The EU has considerably greater assets than is often realized," said the authors of the report. "This will have an impact on the calculation of the U.K.'s Brexit bill."
Worker Decline
The number of workers in the U.K. from other EU nations fell the most in five years in the fourth quarter, according to new data released days after companies sounded the alert about a labor shortage.
The numbers from the Office for National Statistics showed EU-born workers declined by 50,000 to 2.3 million. It nevertheless said that the data isn't seasonally adjusted and should be "treated with caution," while also noting that it's not a proxy for migrant flows.
The data came as the ONS also reported that the U.K. unemployment rate remained at 4.8 percent in December and employment reached a record high of 74.6 percent, leaving the labor market close to "full capacity."

Vauxhall's Brexit Fears
In March last year, then-Prime Minister David Cameron stood on the assembly line at the Vauxhall Motors car plant in Ellesmere Port near Liverpool and warned that the factory was exactly the kind of success story that could be killed off by a vote to leave the European Union.
Less than 12 months on, Brexit may be casting a pall over Vauxhall's future as General Motors mulls the sale of its unprofitable European arm to France's Peugeot.
Christopher Jasper, Ben Katz and John Ainger reported on Thursday that the consequences of a so-called hard Brexit may leave Vauxhall even more vulnerable, given it could face 10 percent sales taxes on vehicles sent into the EU if the U.K. can't land a deal with the bloc and ends up being subject to World Trade Organization tariffs.
At the same time, only 25 percent of the Astra's components are sourced in Britain. In a scenario where WTO rules were in place, remaining parts would most likely incur charges averaging 4.5 percent each time they crossed the EU border, something that can happen several times over in the manufacture of complex automotive assemblies such as transmissions and engines.
Amid such uncertainty, the Unite union has called on May to provide similar assurances to those offered to Nissan to keep investing in its Sunderland plant. 
 8,000 Kilometers Away
The Brexit effect is being felt in Bangladesh, where makers of clothes later sold in U.K. shops are struggling to come to terms with the pound's decline, according to Bloomberg's Arun Devnath and Enda Curran.
The clothes manufacturers typically charge in U.S. dollars, forcing up the import costs for U.K. retailers. Reluctant to raise prices for shoppers, big high street brands are squeezing suppliers instead.
For the densely populated nation of 160 million by the Bay of Bengal, that stings. Garments account for about 80 percent of exports and the U.K. is the nation's third-largest market. Fazlul Hoque, managing director of Plummy Fashions, which supplies garments to Next and Primark, is among those feeling the Brexit squeeze.
"We are in a price war and we are getting pushed from all sides to lower prices," he said. "British retailers are sending us a common message that the situation will be worse in future."

Brexit Bullets
French Senate committee warns of "potentially destructive impact" of Brexit talks for EU
Italy forms a task force to lure financial firms from London
Hungarian-based carrier WizzAir to set up base at London Luton airport in June
The European Parliament approved a landmark free-trade agreement with Canada that could enable the U.K. to do the same after Brexit
Bank of England Governor Mark Carney's first hire is now in position to succeed him
A London Assembly committee said it wanted Mayor Sadiq Khan to ensure EU protections remain in place for London workers after Brexit
Irish PM Enda Kenny said Ireland wants the U.K. and EU to enjoy the "closest possible economic and trading relationship" after Brexit and there should be no "punishment" of Britain
A European Parliament document said British fisherman may not win control of U.K. waters after Brexit, according to the Guardian, which also reported the EU is concerned the U.K. may violate protections to products such as Champagne
London remains the most attractive city in Europe for business in terms of cost, location and talent, Colliers International report found, according to CityAM
Schneider Electric said it's starting to adapt U.K. headcount because of Brexit and predicted it will affect British construction this year
And Finally...
London restaurateurs aren't enjoying the taste of Brexit, according to Bloomberg food critic Richard Vines. Restaurant owners rely heavily on hosts, waiters and cooks from Spain, Italy and France, and they fear Brexit will mean restrictions on the right to work in the U.K. Meanwhile, the sliding pound means eateries have had to pay more for imported food and wine.
"Brexit has had a terrible effect on the morale of our European staff," said Jeremy King, whose Corbin & King group owns several restaurants including the Wolseley."Many have felt unwelcome in the country and have left. Let there be no misunderstanding: The absence of free movement across Europe will be a disaster for the hospitality industry."
For more on Brexit follow Bloomberg on Twitter, Facebook and Instagram, and see our full coverage at Bloomberg.com