Austria to Seek $1.2 Billion as Eurofighter Order Flaws Alleged
By
Defense Ministry probe finds 'willful deceit' by Eurofighter

Airbus said it wasn't informed of new, 'contrived' allegations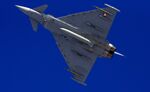 Austria is seeking as much as 1.1 billion euros ($1.16 billion) from Eurofighter Jagdflugzeug GmbH and its main shareholder, Airbus Group SE, after a probe concluded the companies deceived the government in a 2003 purchase of fighter jets.
The Austrian Defense Ministry's five-year investigation into the 1.96 billion-euro contract found that Eurofighter knew it wouldn't be able supply all 18 jets in the configuration it had offered and on time. Investigators concluded that Austria was overcharged for expenses that included lobbying and alleged kickbacks, according to a Defense Ministry task force report published Thursday in Vienna.
"We can't accept that Austrian taxpayers are co-funding bribes by way of the purchase price," Defense Minister Hans Peter Doskozil told journalists in Vienna. "We have clear evidence that Eurofighter and Airbus deceived Austria. This deception has caused massive financial damage."
The government has been investigating the contract for more than a decade, including lobbyists' ties to politicians. Toulouse, France-based Airbus said Thursday that Austrian authorities didn't inform the planemaker of their findings, and that "new" allegations of bad faith and fraud that hadn't been raised previously "appear to be contrived, and we deny them vigorously."
The ministry report said that, in addition to 183 million euros in unjustified costs that went to a "network of consultants and interested parties," investigators concluded that Austria would have ordered jets from rival Stockholm-based supplier Saab AB had it known about the fraud. Those aircraft would have been cheaper to buy and to maintain than Eurofighters, according to the government, which used the cost difference as part of its claim for damages.
The findings of the probe were filed to Austrian criminal prosecutors who've been investigating allegations of corruption linked to the deal for years. Austria will join an eventual criminal proceeding with incidental action to pursue the compensation for the damages. The prosecutors haven't brought charges yet.
Airbus, which said it saw the ministry announcement as "a political maneuver," will still cooperate with Austria "in investigating concrete suspicions," the company said in an e-mailed response to questions.
Doskozil said experts in his ministry will review until the end of June the current setup of Austria's aerial surveillance, including what this means for the current fleet and future purchases. Apart from Eurofighters, Austria operates a few aging Saab fighter jets from the 1970s that will be decommissioned by the end of 2020, according to the ministry.
Airbus owns 46 percent of Munich-based Eurofighter. Its other shareholders are BAE Systems Plc of the U.K. and Italy's Leonardo SpA.
— With assistance by Benjamin D Katz, and Andrea Rothman
Before it's here, it's on the Bloomberg Terminal.
LEARN MORE