markets
Aussie Unemployment Rate Falls Despite Full-Time Jobs Plunge
By
Economy adds 13,500 jobs, slightly less than previous month

Part-time roles surge as full-time employment takes a dive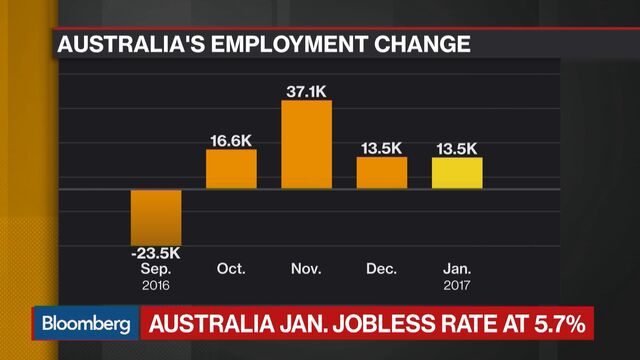 Australia's unemployment rate unexpectedly fell in January, despite a plunge in full-time jobs, underscoring the mixed picture of the country's labor market.
Key Points
Jobless rate fell to 5.7% from 5.8%; economists forecast 5.8%
Employment rose 13,500 from December versus forecast 10,000 gain
Full-time jobs slumped by 44,800; part-time employment rose 58,300
Participation rate fell to 64.6% from 64.7%; economists predicted 64.7%
The Australian dollar bought 77.09 U.S. cents at 2:23 p.m. in Sydney, compared with 77.23 cents before the report
Big Picture
Australia's labor market is sending mixed signals following lackluster hiring last year, when full-time jobs virtually stagnated as gains were primarily part-time. The unemployment rate held below 6 percent partly due to discouraged job-seekers giving up the hunt, underscoring spare capacity in the labor market. The Reserve Bank of Australia last week cited forward indicators suggesting an improved hiring outlook while predicting the jobless rate was unlikely to fall far because of a high level of under-employment.

Australia's economy is divided: on the east coast property prices are booming, spurring housing construction and attracting people from other states, while local governments are pouring cash into infrastructure. In the west and north, where a mining investment boom is unwinding, property prices are falling, businesses are going bust and people are leaving. Indeed, internal migration is the main factor containing unemployment in Western Australia and Queensland and stopping it falling too far in Victoria and New South Wales.
Economist Takeaways

"January's labor market figures highlight that jobs growth has sustained its recent momentum," said Paul Dales, chief Australia and New Zealand economist at Capital Economics Ltd. "But the now-familiar problem of the new jobs being mostly part-time ones rather than full-time ones reared its ugly head again."
"Slack remains in the labor market and leading indicators suggest this will continue to be the case for the foreseeable future," said Michael Turner, fixed income strategist at Royal Bank of Canada. "This was the assessment made by the RBA last week, meaning we see few policy implications from today's data."
"The labor market recovery in Australia remains tepid," said Ben Jarman at JPMorgan Chase & Co. "It is hard to see how income growth and consumption will improve in the near term, and of course how slack will be eroded" to bring core inflation back toward target.


(
Updates with economist comments.
)
Before it's here, it's on the Bloomberg Terminal.
LEARN MORE