Global Stocks at Records Are Ignoring Washington's Political Storm
By
An MSCI benchmark for worldwide stocks closes at a record.

The S&P 500 is having its longest streak of gains since 2013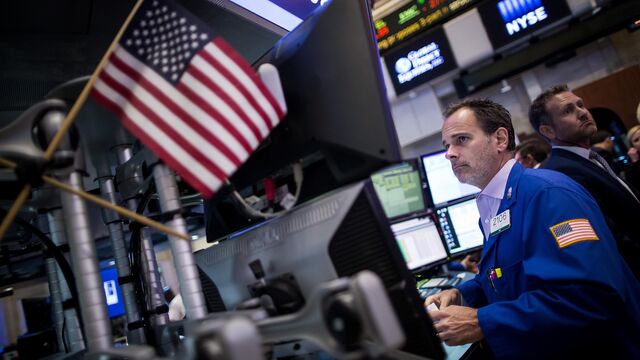 Basing decisions on the political temperature in Washington has rarely been a worse investment strategy than now.
Despite daily media conflagrations over the new U.S. president, global equities just vaulted to their first record in 18 months amid the longest streak of gains in the S&P 500 Index since September 2013. The Trump Trade is approaching bull market dimensions in only three months, with futures on the Dow Jones Industrial Average up 19 percent since their election night lows.
Gains in U.S. equities are snowballing as investors look past political headlines and nosebleed valuations to focus on a cache of bullish data surrounding the economy. From brightening corporate sentiment to data on earnings, retail sales and inflation, proxies for growth are flashing green. Here's a sampling:
Consumers and small business are more bullish on the prospects for economic growth than any time since 2004.
Investors haven't been this optimistic on the global economy since 2011, with 23 percent expecting an outright "boom" in a survey released Tuesday by Bank of America Merrill Lynch. The number predicting negligible growth over the next 12 months has fallen by more than half to 43 percent.


Inflation rose last month at the fastest pace in almost four years, while retail sales climbed more than forecast, suggesting consumers may buttress economic growth.
China's factory prices surged the most since 2011 as the world's biggest exporter further lifted its outlook for global inflation. The nation's producer price index rose 6.9% in January, while the consumer-price index climbed 2.5 percent.
S&P 500 corporate profits are forecast to grow 6.1 percent in the fourth quarter, the most since the third quarter of 2014. The full-year 2017 forecast of 11.7 percent expansion would be the best since 2010. Earnings contracted for five straight quarters through mid-2016, the longest skid since the financial crisis
Executives used the word "optimistic" on a record 51 percent of earnings calls this quarter, according to an analysis by Bank of America Corp. that goes back to 2003. They described things as "better" more often than "worse" or "weaker" at the highest rate in two years.

The transformation in investor mood has been startling. The Dow average has added almost 350 points in a week in which Janet Yellen told Congress she faces a risk in not raising interest rates fast enough. Twelve months ago when the Federal Reserve chair said her best course of action was to tighten gradually, stocks suffered their worst start to a year in history.
A lot has changed: profits and oil are up, deflation talk is down and China's threat to the global economy is much less discussed. It's also hard to ignore the impact of Donald Trump's presidency on the corporate mood.
Investors have poured tens of billions of dollars into stock funds, funneling $21 billion in November and December into the largest exchange-traded fund that tracks the S&P 500 Index. It was the biggest influx of cash in two years.
At the same time, the calm in stocks is at odds with many depictions of the Trump White House, which Wednesday found itself embroiled in controversy over ties between the president's team and Russian intelligence agents. Many of the promises that led to the market's mood change remain only promises, from infrastructure spending to deregulation, and Trump's Twitter account is a constant source of volatility for individual stocks.
Ironically, one thing that hasn't changed in 12 months are the economic expectations of professional prognosticators. In February 2016, economists surveyed by Bloomberg were forecasting quarterly GDP growth averaging 2.3 percent for the remainder of the year. Their estimate now, for 2017? Quarterly GDP growth of 2.3 percent.