Political Risk to the Rescue as Sweden Abhors Krona Appreciation
By
Swedish central bank sees 'considerable political risk'

Bank extends mandate allowing currency interventions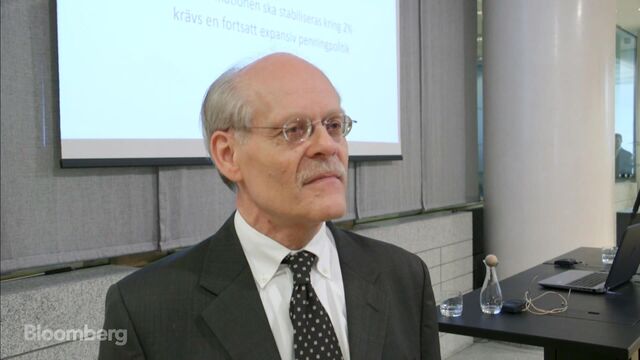 The risk to the global growth spreading from the U.S. administration and the potential for political upheaval in Europe are now providing cover for Swedish central bankers seeking to prevent a rapid krona appreciation.
Policy makers in Stockholm on Wednesday delivered an unexpectedly dovish view on interest rates, citing "considerable political uncertainty abroad." They also held the main rate at a record low of minus 0.5 percent, left intact a bond-buying program and extended a warning that they stand ready to intervene in the currency markets.
According to Robert Bergqvist, chief economist at SEB AB, the central bank could be exaggerating the political risks. "We're seeing a synchronized global economic upturn and it surprises me a little bit that the Riksbank doesn't talk about that," he said. "It has to do with the krona."
Read more: Russia questions mount for Trump White House after Flynn
With inflation moving closer to the Riksbank's 2 percent target, policy makers are trying to decide when to start scaling back a period of unprecedented easing. But they now the face increasing risks from U.S. President Donald Trump's threats to reorder the international trade framework and a series of elections in Europe this year, including in France, that raise the specter of a potential disintegration of the European Union.
Riksbank Governor Stefan Ingves said in an interview that "uncertainty abroad" meant that policy makers couldn't find enough good reasons to change their rate path to reflect a lower probability of a rate cut. The Riksbank sees "slow increases" in rates that "will not begin until the start of 2018," sticking close to language used in December.
While it's too early to tell what effect Trump will have on trade, "it's certainly fully possible to come up with scenarios that are not so good for us," Ingves said.

Carl Hammer, chief FX strategist at SEB in Stockholm, described the rate path as a "disappointment for krona bulls." At Swedbank, Chief Economist Anna Breman said it appears the Riksbank's board remains "dovish and divided," after Deputy Governor Martin Floden entered a reservation against the extended currency intervention mandate.
"They are dead-scared to give too many signals that we're done cutting or we will start to tighten in the future because then the krona may strengthen too much," said Knut Hallberg, an analyst at Swedbank in Stockholm.
Board members are also increasingly voicing concerns that their monetary stimulus measures have fueled a potential housing bubble while asset purchases are reducing liquidity on the government bond market.
At the Riksbank's meeting in December, Ingves was forced to use his decisive vote to push through an extension of asset purchases into this year after three of the six board members opposed the move.
The governor and his board are now pinning their hopes on a global recovery. Consumer price growth is back on track, the economy is growing at around 3 percent, unemployment has fallen to its lowest level in eight years, and a confidence index of households and companies has risen to its highest level in more than five years.

The Riksbank has repeatedly warned that an appreciating krona could jeopardize any inflation gains. The Swedish currency has strengthened more than forecast since the bank's December meeting, though Ingves said on Wednesday that it hadn't gained "that much."
Mikael Sarwe, head of research at Nordea in Stockholm, also questioned the Riksbank's tactics. Press release "says negative stuff could happen in the future and we MUST take that into account today. FAKE MON POLICY?" he wrote in a Tweet.
Before it's here, it's on the Bloomberg Terminal.
LEARN MORE