Nervous About Obamacare, GOP Divisions Emerge Over Repeal Effort
By , , and
Conservatives, moderates have different ideas about strategy

House Republicans meet Thursday to finalize Obamacare strategy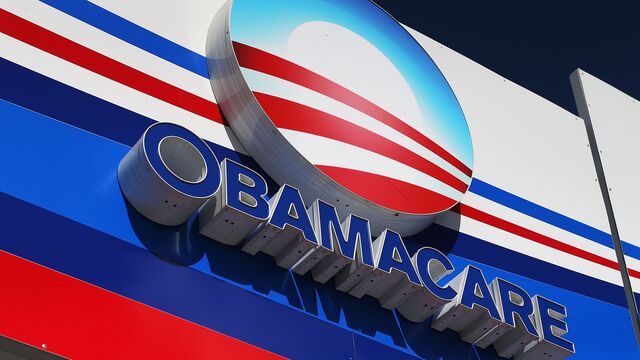 Inside the Republican party in Congress, there's a deepening split over Obamacare.
After much campaign talk about repealing the law in the first days of the Trump administration, some moderate Republicans are now wary of rapidly gutting the program without an alternative in place. Conservatives, meanwhile, are demanding an immediate roll-back before political momentum collapses.
Representative Charlie Dent of Pennsylvania, said he wants a "fully developed and articulated" replacement plan before repeal goes forward. While he's voted in the past to repeal Obamacare without one, he said it's different now that it could actually happen.
"We're playing with live rounds this time," Dent said.
On the other hand are lawmakers like Representative Trent Franks, an Arizona Republican and a member of the conservative Freedom Caucus. "I'm concerned that certain senators are going to go wobbly on even the repeal part of this effort," Franks said. "We have to move the strongest bill that we have there so we can at least gain that repeal."
The divisions come just as supporters of the law may be gaining some momentum. In the last several weeks, GOP lawmakers have been flooded with anti-repeal phone calls to their offices, and back in their districts have faced fiery exchanges at town halls with constituents worried about health care. Next week, they'll head home for a week-long break when many lawmakers plan to hold more town halls and other public events.
Fix, Not Repeal?
Some centrist House Republicans are even openly saying there's no need to fully repeal the Affordable Care Act.
"I've said all along, I think you need to fix the system," said freshman Representative John Faso of New York. "Not all aspects of it, under anyone's formulation, would be 'repealed.' And we should keep what works, and fix what doesn't."
President Donald Trump and his administration have provided little in the way of detailed policy guidance for Republicans, saying that they were waiting for Tom Price to be confirmed as Health and Human Services secretary, which happened late last week.
The issue may to come to a head Thursday. House Republicans plan to hold a meeting then to discuss and possibly finalize Obamacare strategy, said Representative Phil Roe, a Tennessee Republican.
Campaign Promises
Republicans are wary of looking like they're backtracking on a major campaign promise, particularly a key block of conservatives who said Monday they'd oppose any legislation that doesn't go far enough to repeal Obamacare. Members of the Freedom Caucus are pushing for legislation that goes at least as far as a bill to repeal Obamacare that Congress passed in 2015, but was vetoed by President Barack Obama.
"Something that Republicans need to be concerned about is if we're just going to replace Obamacare with Obamacare light, then it begs the question: Are we just opposed to Obamacare because it was proposed by Democrats? Then we're very hypocritical," said Representative Raul Labrador, an Idaho Republican.
Senate Republicans are split along similar lines, but they can't afford many defections, since they only hold 52 of 100 seats in the chamber. Under the so-called budget reconciliation mechanism the GOP is using to repeal Obamacare, it needs at least 50 votes. 
While Senator Orrin Hatch of Utah has said Senate Republicans are united, not everyone seems to agree. Health, Education, Labor and Pensions Chairman Lamar Alexander has repeatedly compared Obamacare to a collapsing bridge that needs to be repaired while a new one is built. On Tuesday, he said it's "not the plan" of the Senate to take up the reconciliation repeal bill that Obama vetoed last year, despite the wishes of House conservatives.
Trump's Plans
Trump himself has given conflicting statements on dismantling Obamacare, at first saying he would have a plan soon after Price was confirmed, then more recently saying a replacement could take until 2018. Matt Lloyd, a spokesman for the Department of Health and Human Services, didn't respond to a question about when the plan would come out.
Vice President Mike Pence met with lawmakers Tuesday to discuss Obamacare. He didn't offer any new details about when the administration's plan would be released, Dent said, but the vice president suggested that they didn't support a standalone repeal.
Pence "made it clear that the policy of the administration is to repeal and replace simultaneously," Dent said.
Policy Issues
House Republican leaders say they want to produce a bill by March that repeals Obamacare and includes proposals to expand health savings accounts and ease the sale of insurance across state lines, said Representative David Brat, a Virginia Republican and member of the Freedom Caucus. Another issue Republicans are considering -- and a possible sticking point -- is whether or not to include refundable tax credits to help people buy insurance. Conservatives see it as a contradiction of their limited-government ideas that could mean more federal spending.
"You'll have health care run at a federal government level where everything is insolvent," Brat said.
House Speaker Paul Ryan, a Wisconsin Republican, said earlier Tuesday that GOP leaders are working with Price, the new HHS secretary. "I fully recognize and respect the strong feelings people have about this issue," Ryan told reporters. "That's why we're taking a step-by-step approach."