politics
Malaysia Arrests Female Suspect in North Korea Assassination
By and
Two Asian women poisoned Kim Jong Nam at airport: lawmaker

Suspect, 28, carried Vietnam travel documents: Malaysia police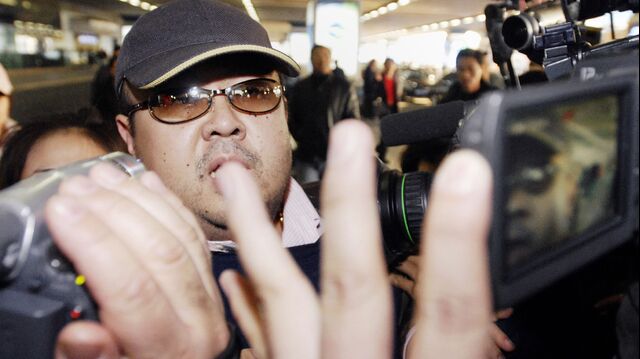 Malaysian police arrested a woman carrying Vietnamese travel documents who is suspected of involvement in the murder of North Korean dictator Kim Jong Un's half-brother.
Doan Thi Huong, 28, was arrested on Wednesday morning at Kuala Lumpur International Airport 2, according to a statement by Malaysian police Inspector General Khalid Bin Abu Bakar. The suspect was positively identified from closed-circuit television footage and was alone at the time, he said.
Earlier on Wednesday, a South Korean lawmaker said that two Asian women had approached Kim Jong Nam in the airport on Monday and later fled in a taxi. South Korean officials believe he was poisoned with either a needle or a spray, Lee Cheol-woo, chairman of the intelligence committee in South Korea's parliament, told reporters after meeting the nation's intelligence chief.
The murder has triggered questions about the stability of Kim's regime as he accelerates plans to build nuclear weapons that threaten the U.S., South Korea and Japan. South Korean analysts and government officials have speculated that Kim was behind the killing of his half-brother, a critic of his leadership who lived outside the country for years.
South Korea believes the deceased man was Kim Jong Nam based on closed-circuit television footage and the photo on his North Korean passport, Lee said. Malaysian authorities released a statement identifying him as Kim Chol, 46, who was born in Pyongyang.
Abdul Samah Mat, the police chief of Selangor state which takes in the airport, said earlier that an autopsy is underway at Kuala Lumpur Hospital. He declined to give further details.
Kim Jong Nam, the eldest son of former dictator Kim Jong Il, fell out of favor with his father after he was caught trying to enter Japan using a fake Dominican Republic passport in 2001, according to Japanese reporter Yoji Gomi, who wrote a book about him. Kim Jong Nam had been critical of Kim Jong Un, reportedly saying in 2012 that he "won't last long" because of his youth and inexperience. The two brothers have different mothers.
Kim Jong Un has had a "standing order" to kill Kim Jong Nam since he took power in 2011, Lee said. There was a previous attempt to kill him in 2012, according to Lee. He added that China had been protecting Kim Jong Nam, who has family members in Beijing and Macau, without saying how he knew that was the case.
China is closely monitoring developments in the case, foreign ministry spokesman Geng Shuang said at a regular briefing in Beijing on Wednesday.
Succession Questions
Lee dismissed speculation that Kim Jong Un had his brother killed because he represented a threat to his succession plan, saying to him it appeared to be just the execution of a longstanding order.
"We should take this as an action that reflects Jong Un's paranoia," Lee said. "Normal citizens in the North aren't aware of Jong Nam's existence, and it is only elite there who knows about him. The elite should have been shocked."
Another South Korean lawmaker, Kim Young-woo, said separately the most likely scenario was that Kim had his brother killed because of a perceived threat. Kim Young-woo, who leads the National Assembly's national-defense committee, didn't cite specific evidence to back up that view.
"You don't remove someone who has been wandering around away from home for a long time -- without being up to anything important really -- out of the blue," Kim Young-woo said. It indicates Kim Jong Nam had followers and his brother "felt insecure about it," he said.
News of the murder came two days after Kim Jong Un test-fired a ballistic missile as part of efforts to develop North Korea's nuclear-weapons capability. The provocation drew a rebuke from the United Nations Security Council, with U.S. President Donald Trump vowing to deal with the threat "very strongly."
Kim Executions
North Korea remains largely cut off from the world, with information tightly controlled by the government. Kim has carried out a series of executions since taking power in 2011, the most high profile of which was the 2013 killing of his uncle and one-time deputy Jang Song Thaek.
Kim Jong Nam was born to a woman who was forced by Kim Jong Il to leave her husband and live with the dictator, according to Cheong Seong-chang, a North Korea analyst at Sejong Institute near Seoul. For that reason, Kim Jong Nam was considered an illegitimate son and grew up in seclusion, Cheong said.
While Kim Jong Nam enrolled in an international school in Geneva in 1980, his grandmother brought him back to Pyongyang in his late teens because he started to frequent bars, Cheong said.
Before it's here, it's on the Bloomberg Terminal.
LEARN MORE