Goldman Sachs Alumni in Washington May Shun Firm, Solomon Says
By
Co-president says ex-executives want to protect reputations

Comments echo Blankfein's take on the firm's DC connections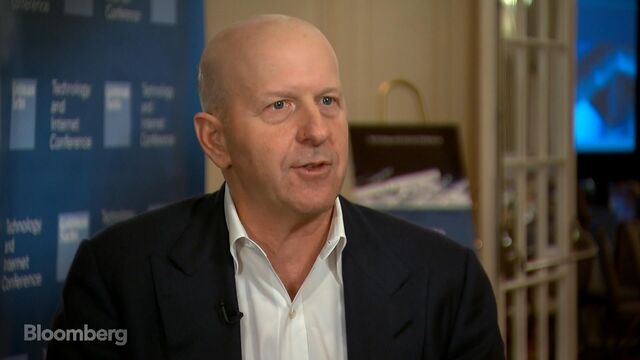 Goldman Sachs Group Inc. executives who leave the firm to work in government are more likely to shun old colleagues for fear of damaging their reputations, rather than show favoritism in their policy decisions, co-President David M. Solomon said.
"It's almost the opposite," Solomon said Wednesday in a Bloomberg Television interview, responding to a question about possible undue influence. "These people have their own reputations and they want to, in any way they can, prove that they are doing the right thing for the country. They want to serve, and so to a degree they are almost more careful the other way."
Solomon's comments echo those of Chief Executive Officer Lloyd Blankfein and show one way the firm has sought to defend itself against accusations it wields too much power in the White House. In December, Trump enlisted the firm's then-president, Gary Cohn, to serve as his top economic adviser, and Dina Powell, who ran the firm's philanthropic arm, was named an assistant to the president.
Democratic Senators Elizabeth Warren and Tammy Baldwin called on Cohn this month to withdraw from matters that may have "a significant indirect impact on Goldman" for as long as he serves in the administration. Trump signed an executive order on Jan. 28 requiring appointees such as Cohn to recuse themselves from decisions "directly and substantially related" to their former employers for two years.
Solomon was named co-president with Harvey Schwartz to replace Cohn in December. Prior to his current role, Solomon helped run Goldman Sachs's investment-banking division. He joined the firm from Bear Stearns Cos. in 1999 to build up the leveraged-finance business.
— With assistance by Caroline Hyde
Before it's here, it's on the Bloomberg Terminal.
LEARN MORE