markets
Five Things You Need to Know to Start Your Day
Get caught up on what's moving markets.
By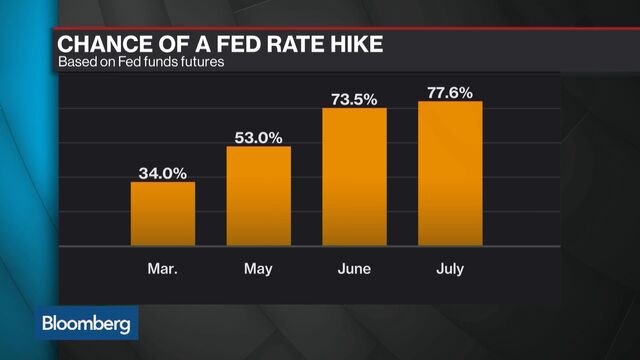 Want to receive this post in your inbox every morning? Sign up here.
Yellen sounds hawkish, markets are rallying, and there's fallout from Flynn. Here are some of the things people in markets are talking about today.
Yellen
Federal Reserve Chair Janet Yellen sounds like she's on a mission to raise interest rates this year — no matter what President Donald Trump does on tax cuts and spending. In a clarifying point during Senate questioning on Tuesday, Yellen said the central bank doesn't need to wait for fiscal stimulus in order to hike rates. U.S. Treasuries sold off on her testimony, with the yield on the government 10-year note rising to 2.48 percent from 2.43 percent the previous day. Probabilities for a March rate hike jumped to 34 percent, but some are still worrying that the Fed will have to move faster than the market currently expects.
Markets rally
Yellen's hawkish comments boosted the U.S. greenback, with the Bloomberg Dollar Index gaining 0.29 percent on Tuesday and going up 0.21 percent on Wednesday, as of 5:17 a.m. ET. The Stoxx Europe 600 Index climbed 0.39 percent as of 5:19 a.m. ET, the highest level since December 2015. Futures on the S&P 500 were little changed after the index closed 0.4 percent higher on Tuesday. Reflation trades are back in vogue with banks the big-winners in equity markets, as shares of Goldman Sachs Group Inc. reached a closing record.
Inflation data is coming
Speaking of inflation, at 8:30 a.m. ET we'll get the Consumer Price Index for January. That comes after Tuesday's Producer Price Index report showed U.S. wholesale prices jumped in January by the most since September 2012. Data from China on Tuesday showed the producer price index increasing the most in five years — driven by a recovery in commodity prices – while U.K. inflation rose less than expected.
Flynn fallout
The Trump administration is facing growing pressure following Michael Flynn's resignation from the post of National Security Adviser on Tuesday, with several congressional Republicans calling for expanded probes of the administration's relations with Russia and of Moscow's alleged interference in U.S. politics. Bloomberg reports that the Trump administration was preparing to replace Flynn as early as last week, according to a senior official. Meanwhile, members of the presidential campaign staff had repeated contacts with senior Russian intelligence officials in the year before the election, the New York Times says, citing four current and former American officials it didn't identify.
U.K. jobs day
U.K. unemployment declined and a measure of the number of people in work rose to a record in the fourth quarter, pushing the labor market closer to "full capacity," according to data released by the statistics office this morning. While employment is still rising, the pace has cooled over the past year thanks to uncertainty over Brexit. Wage growth has also been sluggish, with basic pay growth slowing in the quarter to 2.6 percent from 2.7 percent, weaker than economists had forecast. The pound lost ground against the dollar after the data were released and was at $1.2435 as of 5:32 a.m. ET down 0.28 percent on the day. 
What we've been reading 
This is what's caught our eye over the last 24 hours.
Before it's here, it's on the Bloomberg Terminal.
LEARN MORE