Fillon Warns on Public Finances, Seeks Youth Violence Crackdown
By and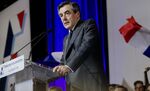 French presidential candidate Francois Fillon repeated a warning that France is effectively bankrupt and called for a change in the law to allow 16 and 17 year-old to be sent to jail in an effort to crack down on youth violence.
"Those who tell you that they will cut taxes here and give subsidies there are telling tales," Fillon said Wednesday on a campaign visit to Compiegne, northeast of Paris. Reviving a statement he made after becoming prime minister in 2007, Fillon said France is essentially bankrupt and warned that it can face situations comparable to those of Greece, Portugal and Italy. "You think it can't happen here but it can," he said.
The remarks come as Fillon is trying to shutdown dissent within his own party that has set in since a scandal regarding the employment of his family members as parliamentary assistant rocked his campaign. In an attempt to rally his base, he lunched with former President Nicolas Sarkozy earlier in the day in Paris.
Following that meeting, Fillon revived one of Sarkozy's own campaign pledges -- to cut the age at which violent criminals can be treated as adults to 16 from 18. The new promise comes after multiple nights of unrest in rough suburbs around Paris as youths railed against their treatment by police.
"If we let violence reign among minors we will be lost," he said. "I very much hesitated about the measure on 16 year old but increasing violence requires it."
Before it's here, it's on the Bloomberg Terminal.
LEARN MORE