China's Holdings of Treasuries Dropped in 2016 by Most on Record
Sarah McGregor and Andrea Wong
Japan's portfolio decreased for a fifth consecutive month

Treasury data show Japan as top U.S. foreign creditor in 2016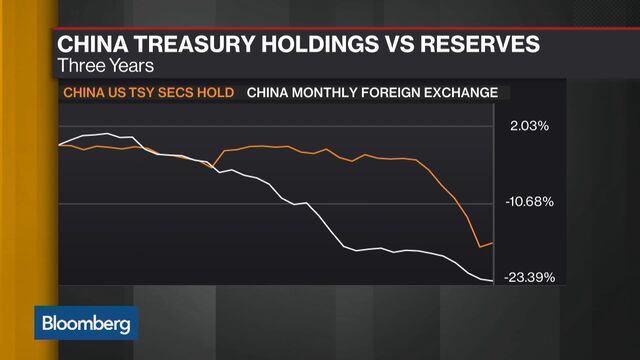 China's holdings of U.S. Treasuries declined by the most on record last year, as the world's second-largest economy dipped into its foreign-exchange reserves to buttress the yuan. Japan, America's largest foreign creditor, trimmed its holdings for a second straight year.
A monthly Treasury Department report released in Washington on Wednesday showed China held $1.06 trillion in U.S. government bonds, notes and bills in December, up $9.1 billion from November but down $188 billion from a year earlier. It was the first monthly increase since May.
The People's Bank of China, owner of the world's biggest foreign-exchange reserves, has burned through a quarter of its war chest since 2014 in an effort to underpin the yuan and deter capital from fleeing the country. Chinese sales have made borrowing more costly for the U.S. government: 10-year yields rose to 2.6 percent last year, from as low as 1.3 percent.

"China is a massive player in our market, and can move the markets whether they are a buyer or seller," said Tom di Galoma, managing director of government trading and strategy at Seaport Global Holdings. "If 10-year yields are going to trade to 3 percent this year, China will be the catalyst."
China's foreign currency reserves fell for a seventh straight month in January to $3 trillion, to the lowest in almost six years, driven by the central bank's intervention in foreign-exchange markets. More broadly, America's biggest creditors are re-thinking their financing of the U.S. government amid the prospect of bigger deficits and more inflation under President Donald Trump or higher interest rates from the Federal Reserve.
Japan's portfolio decreased for a fifth consecutive month in December, falling by $17.8 billion to $1.09 trillion, according to the data. The holdings declined by $31.6 billion last year.
The report, which also contains data on international capital flows, showed net foreign selling of long-term securities totaling $12.9 billion in December. It showed a total cross-border outflow, including short-term securities such as Treasury bills and stock swaps, of $42.8 billion.
Total foreign ownership of U.S. Treasuries in December amounted to about $6 trillion, down from $6.15 trillion a year earlier, the report showed.
Before it's here, it's on the Bloomberg Terminal.
LEARN MORE