How Trump's and Giuliani's TV Comments Haunt Them in Fight Over Immigration Ban
Erik Larson, Andrew M Harris and Kartikay Mehrotra
Rulings multiply hurdles for White House's agenda on terrorism

Cases turn on whether president was trying to ban Muslims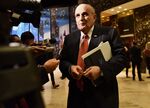 President Donald Trump's comments about Muslims in the years before the election -- including in a 2011 interview in which he declared "I don't notice Swedish people knocking down the World Trade Center" -- are likely to haunt the administration even if an executive order closing U.S. borders to citizens of seven mostly Muslim countries is rewritten.
A judge in Alexandria, Virginia, late Monday issued a harsh 22-page opinion highlighting a range of public statements by Trump and his surrogates that may undermine Justice Department claims that the Jan. 27 travel directive is a narrow national security matter and not a "Muslim ban."
The decision by U.S. District Judge Leonie Brinkema cited a press release issued by then-candidate Trump on Dec. 7, 2015, entitled "Donald J. Trump's Statement on Preventing Muslim Immigration." In it, Trump called for "a total and complete shutdown of Muslims entering the United States until our country's representatives can figure out what is going on."
Brinkema, an appointee of Democratic President Bill Clinton, rejected the administration's claim that Trump's pre-election comments are irrelevant, saying that contradicts the U.S. Supreme Court's findings in previous cases that "the world is not made brand new every morning."
"A person is not made brand new simply by taking the oath of office," Brinkema said, adding that "the 'Muslim ban' was a centerpiece of the president's campaign for months."
Step Closer
Brinkema's decision came four days after a federal appeals court in San Francisco temporarily denied the administration's attempt to enforce the ban, moving the entire issue a step closer to possible review by the U.S. Supreme Court. The appellate ruling stemmed from a parallel suit in Seattle filed by Washington state.
The Justice Department argues the travel ban is necessary to prevent terrorist acts from being carried out by visitors who may slip through the cracks, and that Congress granted the president broad authority to regulate immigration. As for Trump's comments, the U.S. says judges may consider only the text of an executive order when determining its legality and not outside statements.
But ultimately, in order to move forward with an executive order, the administration may have to show judges why they are not imposing a Muslim ban, something Brinkema said she "begged' them to do.
The White House responded to the appeals court loss on Friday by saying the president may issue an entirely new immigration order. Even if he follows through with a new order, the statements highlighted in the Virginia suit will continue to haunt Trump and his team, said Stephen Wasby, a legal scholar at the State University of New York in Albany.
"The question that will be asked is how long does the taint of those statements last?'' Wasby said. "No matter how you reword the executive order, when it is challenged that whole history will be there."
Wasby compared it to a landmark case over prayer in schools, in which the Supreme Court used legislators' past statements to find that a law requiring "moments of silence" by students was dressed-up Christian prayer.
"In the moment-of-silence cases, state legislators did the same thing," Wasby said. "They made clear in their statements on the floor why they were passing the law -- because they wanted school prayer -- but then they made the language of the law more neutral. But the judges in those cases went to their legislative statements to find intent and motive."
'Muslim Problem'
Brinkema said in Monday's ruling that Trump's comment in 2016 "is consistent with views that the president has expressed on various occasions over the last six years," including a 2011 Fox News interview with host Bill O'Reilly.
In that interview, O'Reilly asked Trump, "Is there a Muslim problem in the world?" Trump replied, "Absolutely. Absolutely. I don't notice Swedish people knocking down the World Trade Center."
Asked later by O'Reilly if the problem applied to all Muslims, Trump said it did not.
"I know many Muslims, and they're fabulous people," Trump said. "They're smart. They're industrious. They're great. Unfortunately, at this moment in time, there is a Muslim problem in the world."
The appeals court pointed to Trump's earlier remarks in its decision last week, while a Boston judge refused to consider them in a Feb. 3 ruling that upheld Trump's order. In her opinion, Brinkema also quoted former New York Mayor Rudolph Giuliani's comments on Fox News on Jan. 29, two days after the executive order was signed, in which he affirmed Trump had called for a "Muslim ban" and said the president had asked him to "put a commission together" to find "the right way to do it legally," according to the ruling.
The judge also pointed to evidence that the executive order had been rushed and wasn't fully vetted, suggesting it "was not motivated by rational national-security concerns." The administration also failed to provide evidence that the seven majority-Muslim countries singled out in the directive posed a threat to the U.S., she said.
Read More: Fixing Trump's Executive Order Is No Easy Task
"Those campaign statements and the Giuliani interview will be damaging," said Danielle McLaughlin, a lawyer at Nixon Peabody and co-author of a book on the conservative legal movement. "It's almost like the administration had been hamstrung before it was drafted because of what had already been said."
Brinkema ruled that the travel ban can't be enforced against "lawful" Virginia residents, whether they are at home or abroad, as well as those who attend or are employed by the state's colleges and universities. She stopped short of granting Herring's request to freeze the president's travel ban nationwide as a Seattle judge did in a parallel suit.
In the Seattle case, U.S. District Judge James Robart ruled Monday that evidence-gathering can start immediately, siding with Washington state Attorney General Bob Ferguson who said he wants to move quickly toward a trial.
Justice Department spokeswoman Nicole Navas declined to comment on Monday's rulings.
Trump's executive order threw airports into turmoil as people bound for the U.S. learned only upon landing that they couldn't leave arrival terminals. Many were turned back as spontaneous protests erupted outside customs areas in New York, Washington, Chicago, Dallas and elsewhere.
— With assistance by David Voreacos
Before it's here, it's on the Bloomberg Terminal.
LEARN MORE