Trump Calls In Sessions and Kelly for Next Steps on Travel Ban
By and
President convenes Cabinet chiefs as legal case progresses

Next phase in court case on executive order comes Thursday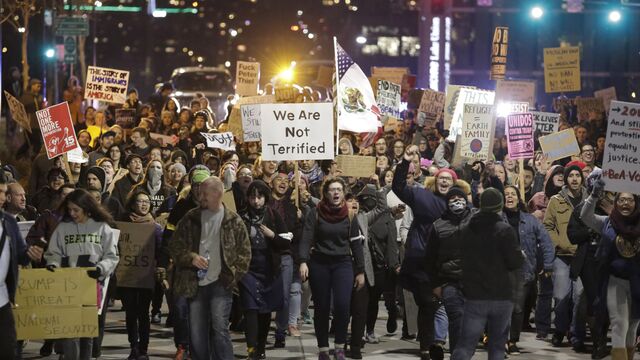 President Donald Trump summoned Attorney General Jeff Sessions and Homeland Security Secretary John Kelly to the White House Tuesday to review options for dealing with court rulings that put a hold on an executive order restricting immigration and travel to the U.S.
White House press secretary Sean Spicer said the president and the cabinet secretaries are continuing discussions about the next steps for the White House in response to setbacks in federal courts to implementing restrictions that Trump has called essential to U.S. national security.
The Justice Department is expected to inform the 9th Circuit Court of Appeals on Thursday whether it wants more judges to review a ruling halting implementation of a ban on travel to the U.S. by citizens of seven majority-Muslim countries.
Trump said Friday he may issue a revised executive order, but no decision has been made. The White House also said it was weighing whether to pursue an appeal with the U.S. Supreme Court.
Separately, the Justice Department is seeking to restore the ban by overturning rulings won by the states of Washington and Minnesota as the White House considers revising the executive order. The federal government believes "the appropriate course is to postpone any further proceedings" in Seattle until the appeals court decides whether to rehear the case with a larger panel of judges, the Justice Department said in a filing.
The travel ban barred Syrian refugees indefinitely, and blocked for 120 days all others fleeing their homelands claiming persecution or fear of violence. No citizens of Syria, Iran, Iraq, Yemen, Somalia, Libya or Sudan initially could enter the U.S. for 90 days. The government amended the directive to allow those citizens to enter if they held a U.S. permanent-resident permit, commonly known as a Green Card.
— With assistance by Patricia Hurtado
Before it's here, it's on the Bloomberg Terminal.
LEARN MORE