Five Things You Need to Know to Start Your Day
Get caught up on what's moving markets.
By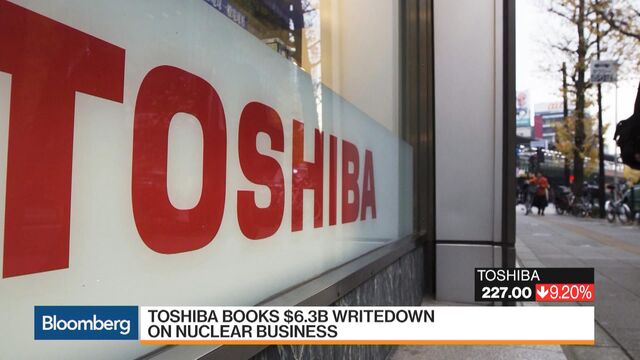 Want to receive this post in your inbox every morning? Sign up here.
Michael Flynn resigns, euro-area growth misses, and Toshiba takes a writedown. Here are some of the things people in markets are talking about today.
Toshiba writedown
Toshiba Corp. was late reporting earnings to the market, and when they did come in, they included a projected 712.5 billion yen ($6.3 billion) writedown on its nuclear power business, as well as news that Shigenori Shiga will step down as chairman of the conglomerate. The company, which had a higher value than Apple Inc. a decade ago, could soon be effectively worthless. 
Flynn resignation
White House National Security Adviser Michael Flynn resigned his position, news that came after the Justice Department had warned the White House of its concerns over Flynn's contacts with the Russian ambassador to the U.S. The departure leaves the president's national security team in a difficult position as it looks to confront policy challenges. In better news for the Trump administration, Steven Mnuchin was confirmed as U.S. Treasury secretary after winning a Senate vote 53-47. 
Euro-area growth, U.K. inflation.  
The euro-area economy grew 0.4 percent in the fourth quarter of 2016, slightly less than initially reported as German and Italian expansion disappointed. In the U.K., inflation rose to 1.8 percent in January, which was a smaller increase than economists were expecting. The pound dropped 0.5 percent to $1.2459 by 5:35 a.m. ET following the release. Meanwhile, Chinese producer prices surged the most since 2011.
Stocks are down
Overnight, the MSCI Asia Pacific Index fell 0.2 percent, with Japan's Topix index dropping 1 percent as the yen strengthened following Flynn's resignation. In Europe, the Stoxx 600 Index was down 0.1 percent by 5:40 a.m. ET as shares sold off after reaching their highest level since 2015 in yesterday's session. U.S. futures also pointed to a lower open. 
Yellen testimony
Federal Reserve Chair Janet Yellen begins her semi-annual two-day testimony to Congress at 10:00 a.m. ET on Tuesday, and is expected to defend the post-crisis banking rules that the Trump administration has pledged to undo. When it comes to interest rates, she is not expected to do much more than repeat the 'gradual' pace guidance that was used in the Fed's Feb. 1 statement. 
What we've been reading 
This is what's caught our eye over the last 24 hours.
Before it's here, it's on the Bloomberg Terminal.
LEARN MORE