Hidden Side to the Reflation Trade Is China's Surging Prices
Malcolm Scott and Christopher Anstey
China seen as key to turnaround in global investor view

Still some scope for global yields to rise, HSBC's Zhang says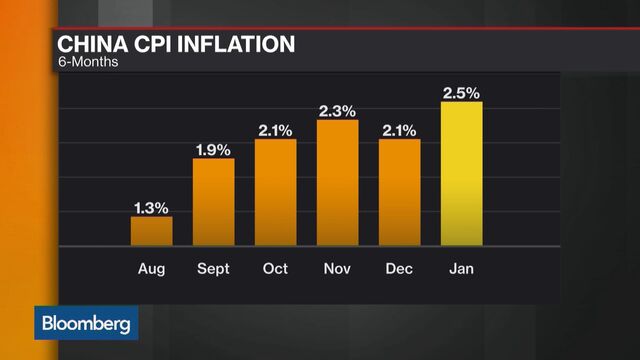 Forget about Donald Trump. The global reflation trade may have another driver that proves to be more durable: China's rebounding factory prices.
The producer price index has staged a 10 percentage-point turnaround in the past 10 months, posting for January a 6.9 percent jump from a year earlier. Though much of that reflects a rebound in commodity prices including iron ore and oil, China's economic stabilization and its efforts to shutter surplus capacity are also having an impact.
To read the detailed PPI report, click here

For the global economy, it's the pass-through of China's rising costs via exports that matters, and Chinese manufacturers long squeezed by increasing wages have been raising their asking prices. For some market participants, it's China rather than the U.S. that's provided the main boost to global bond yields from their mid-2016 lows, rather than hopes for reflation from the new Trump administration's tax and regulatory reforms.
"The potential of the 'reflation trade' constructed around the narrative of a new administration stimulating the U.S. economy looks to be overstated," said Michael Shaoul, chief executive officer at Marketfield Asset Management in New York. "But the alternative version that is based on a solid recovery in the global economy that comfortably beats the muted expectations of investors would still seem to have plenty of time ahead of it."
And the key to that turnaround is China, says Shaoul.
Benchmark 10-year yields from U.S. Treasuries and German bunds to U.K. gilts and Japanese government bonds all bottomed in July and August 2016, just as China's PPI was ending its 54-month stretch of declines. China's steady move away from deflation suggests a support for global rates should disappointment with Trump reflation policies set in.
U.S. 10-year Treasuries yielded 2.44 percent as of 9:12 a.m. on Tuesday in New York, compared with last year's low of about 1.36 percent.
"Last year, reflation started from China," said Zhang Zhiming, head of China research at HSBC Holdings Plc in Hong Kong. Now that Chinese companies have enjoyed rising industrial profits, policy pressures mean that even if Beijing wishes to slow down, it will be difficult to stop, he said. Pressure on global bond prices will be to the downside, though yields may not rise significantly unless there's a spike in the U.S.
For a recent Bloomberg story on China's swing to become an exporter of inflation, click here
Trade data from the International Monetary Fund for 2015 illustrates the economies affected by China's shift away from disinflation: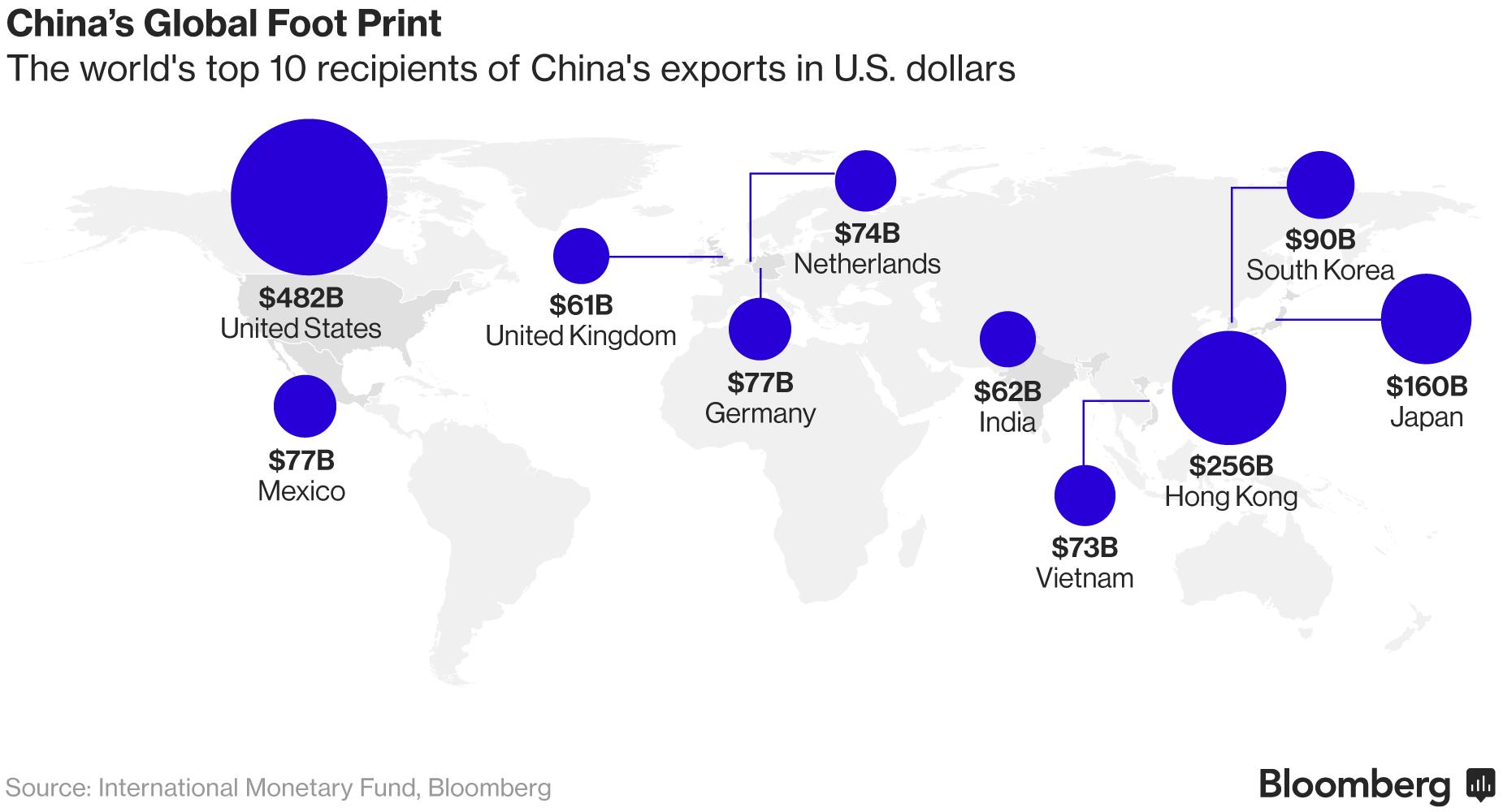 The emerging inflation has helped China's economy by pulling down real borrowing costs, according to Bloomberg Intelligence.
To read Bloomberg Intelligence's take, click here
While the PPI may not continue at the blistering near-7 percent pace of last month, the inflation data underscore the People's Bank of China's move to tighten monetary policy -- a shift that's offered some support for the yuan's exchange rate.
"Rising inflation certainly vindicates the PBOC's tightening bias, and we believe such a policy stance will have limited impact on real economic activities," Citigroup Inc. analysts led by Liu Li-Gang wrote in a note. "Real funding costs are falling while firms' profit margins are improving."
Before it's here, it's on the Bloomberg Terminal.
LEARN MORE