Jaguar Profit Drop Dents Tata Motors Earnings; Stock Tumbles
By and
Jaguar Land Rover profit plunges 62 percent; tax expenses jump

Net income drop steepest since quarter ended September 2015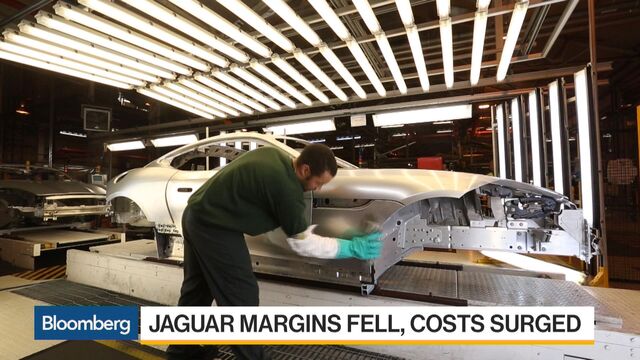 Tata Motors Ltd.'s quarterly profit plunged 97 percent after margins at its luxury Jaguar Land Rover unit narrowed and costs surged.
The company posted net income of 937.7 million rupees ($14 million) in the three months ended December, Mumbai-based Tata Motors said in a statement on Tuesday. That compares with the 22.6 billion rupee average of analysts' estimates compiled by Bloomberg. Profit at its Jaguar Land Rover luxury unit fell 62 percent to 167 million pounds ($208 million).
The decline in earnings comes as Tata Motors contends with potential fallout from a proposed U.S. border tax on imported cars and Britain's withdrawal from the European Union. The Jaguar Land Rover unit is vulnerable because it doesn't have factories in the U.S. and sells much of its U.K. output abroad. The unit's operating profit margin narrowed to 9.3 percent from 14.4 percent a year earlier, according to the statement.
"JLR had lower wholesale volumes," C. Ramakrishnan, chief financial officer of Tata Motors, said at a briefing in Mumbai. "JLR margins would definitely be better in the fourth quarter, hopefully on the back of the new launches that we have."
To offset the impact of a border tax now being studied by the Trump administration, Jaguar Land Rover would need to raise prices by more than $17,000 per vehicle, according to West Bloomfield, an analyst at Michigan-based Baum & Associates LLC. This compares with the smallest price increase of about $282 for Ford Motor Co.
The rupee strengthened about 15 percent against the British pound last year, eroding the repatriated earnings from the luxury unit, which contributes about 86 percent of Tata Motors' operating profit. An increase in tax expense to 8.67 billion rupees from 6.69 billion rupees also weighed on earnings, according to the statement.
Land Rover's sales declined 8.7 percent in the quarter as demand for its Discovery sport utility vehicle waned. Its spending on incentives and marketing promotions in the U.S. more than doubled last year, according to Autodata Corp.
(A previous version of this story corrected reason for decline in profit.)
Before it's here, it's on the Bloomberg Terminal.
LEARN MORE